If you are interested in being a vendor at Fiber.Love.Retreat. then please use the Contact Us form and let us know a bit about you and your products.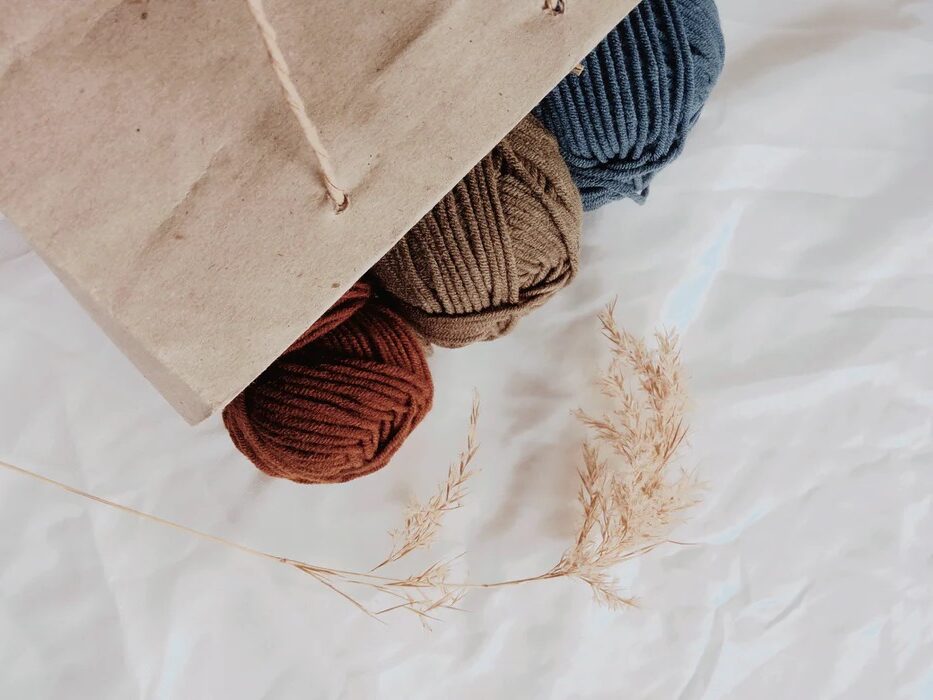 We've had a number of inquiries about "drop ins" at the 2023 retreat. Visitors are welcome to come shop in the market on Saturday, from 2:00 p.m. until the market closes at 4:00 pm. Once the market is closed, the venue will remain open to registered guests only to enjoy their evening activities. We do request that all visitors finish their shopping by 4:00 and that they do not go in the main lodge area, the upstairs dorm rooms, or the cabins, unless accompanied by a registered attendee. Please feel free to contact us with any questions you might have about this. Thanks for your understanding and co-operation.
Indie Dyers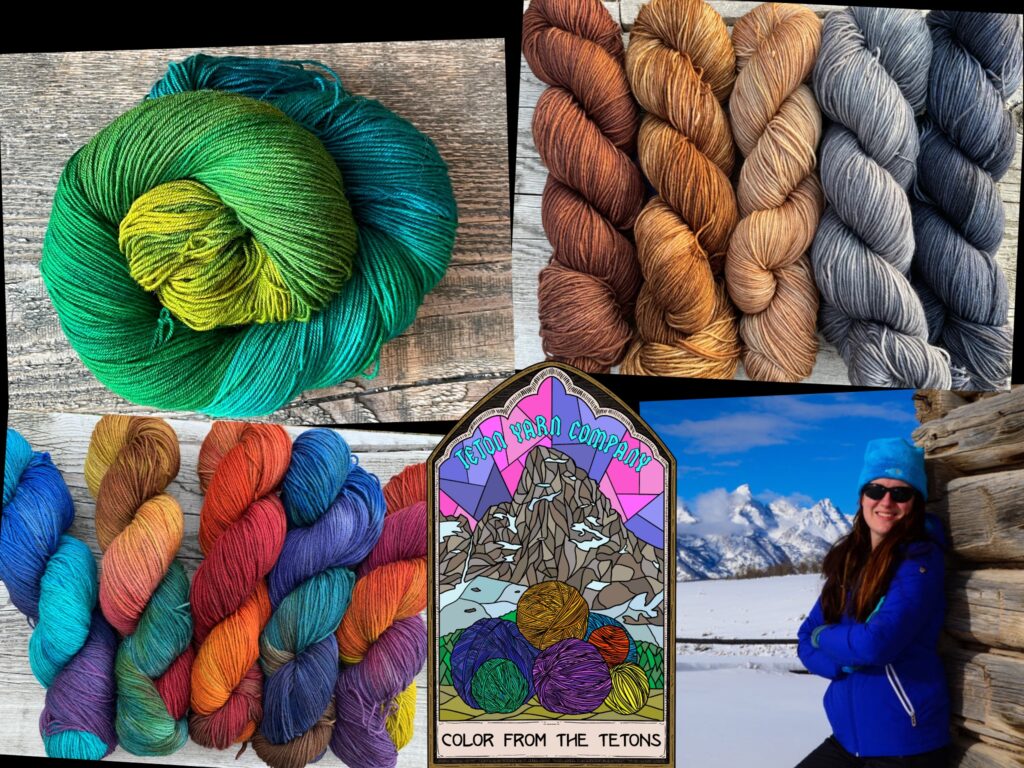 Sarah Kain
A Love for Nature Fires My Love for Color
Nature has always been my primary source of artistry for color. The Tetons are the inspiration for most of my colorways. There are always new color revelations around every corner; from the blooms of wildflowers, the high mountain lakes, to fiery sunsets. I founded Teton Yarn Company because I love to knit, I love color, I love the mountains and being able to combine my passions to share with you.
At Teton Yarn Company, we celebrate yarn, color and the Tetons! Offering a variety of hand-dyed wool yarns for the fiber artist, from delicate laceweight yarns to worsted weight yarns, and all weights in between. All my yarns are hand-dyed by me in my studio in the heart of Teton Valley, Idaho. I dye small batches of one of a kind variegated multi-color colorways and a rainbow of tonal colorways for the fiber artist.
You can also find Sarah on Facebook and Instagram.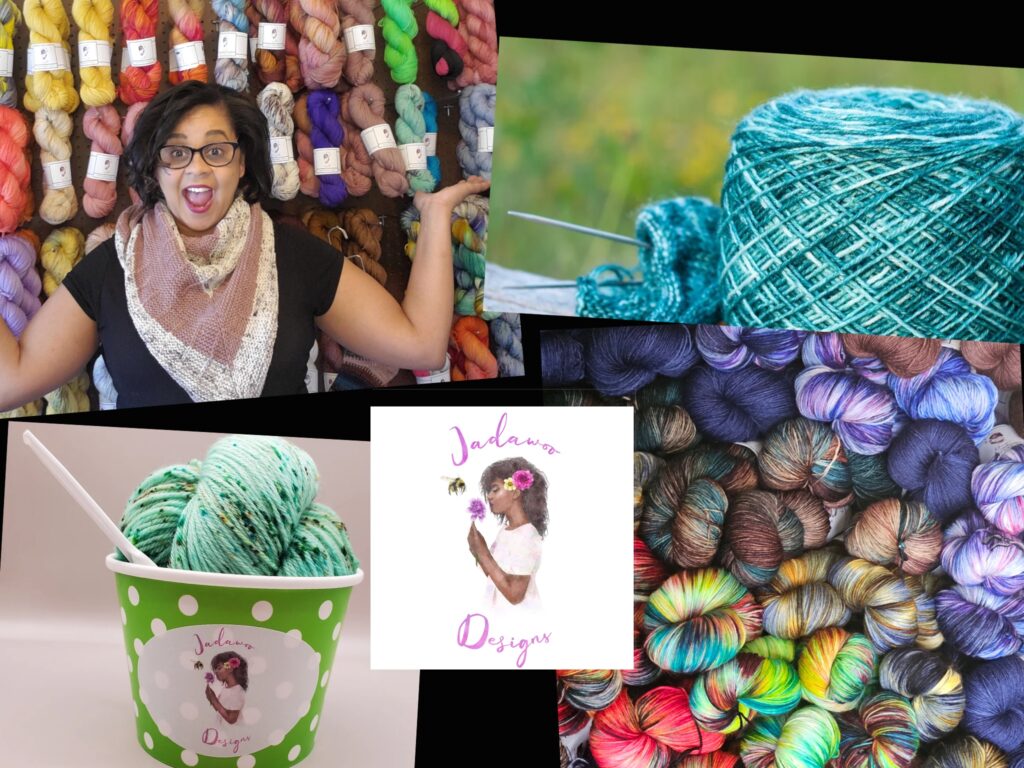 Jessica Whitmore
Jessica Whitmore's passion and specialty is dyeing vibrant colorways to inspire makers to show their creativity and unique style. Jadawoo Designs started in August 2020, borne out of a love for yarn, and the realization there was room for more colorways and dyers in the fiber community. In Jessica's words "There is no great pandemic story behind the start of my yarn dyeing business. The truth of the matter is that I love yarn! I love going to yarn stores and being inspired by all of the colorways. I love finding the perfect yarn and pairing the perfect pattern to go with it. It is our mission to help bring communities together, through a common love for the fiber arts."
Besides her website, you can find Jessica on Instagram and Etsy.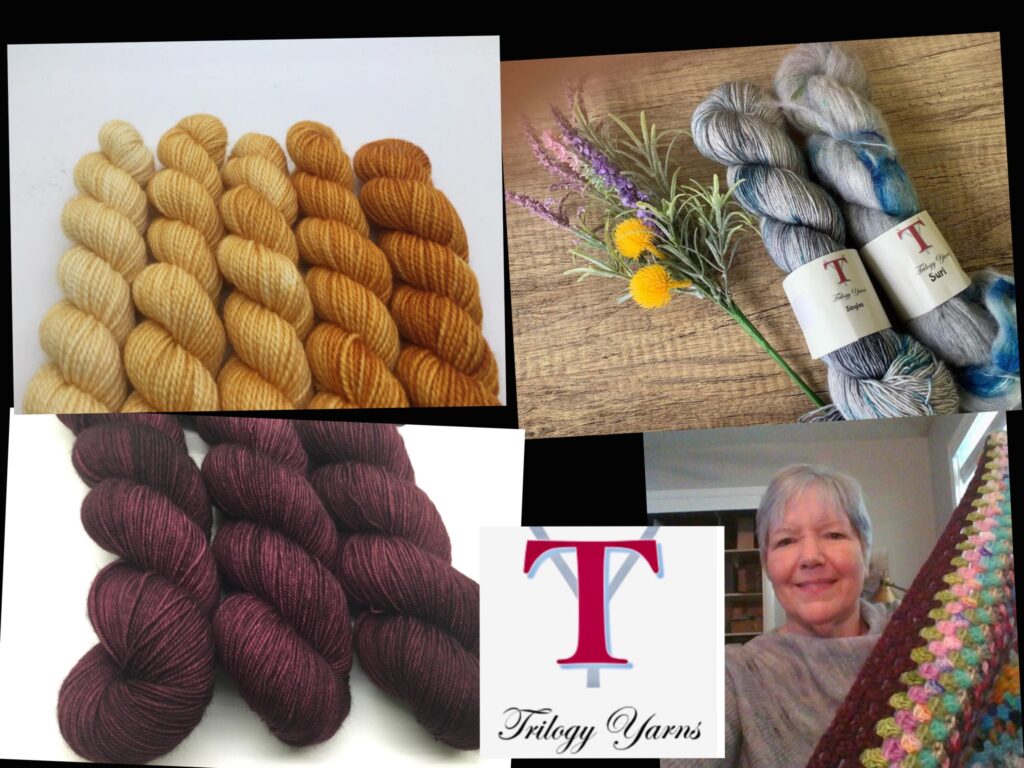 Nancy Olfs
My fiber journey started when when I was a little girl. I remember Sunday evenings, the family would gather to watch slide shows. As we sat together in the dark I could hear my grandmother's knitting needles clicking and my desire to knit grew from those moments.
My knitting practice started and stopped many times throughout my young adult life. I didn't realize how important knitting would become to me until my daughter unexpectedly passed away and knitting quickly became my go-to release. Fast forward many years, and once again I found myself turning to knitting as a stress reliever when my husband was diagnosed with a rare form of cancer.
I taught him to knit when he became too ill to work, and he loved it! We started to play with yarn dyeing too, but it got set aside as he got sicker. He was a trooper, but his body grew tired and he passed away. Trilogy Yarns is in memory of him; I know that with each skein I dye, he is there with me.
You can also find Trilogy Yarns on Facebook and Instagram.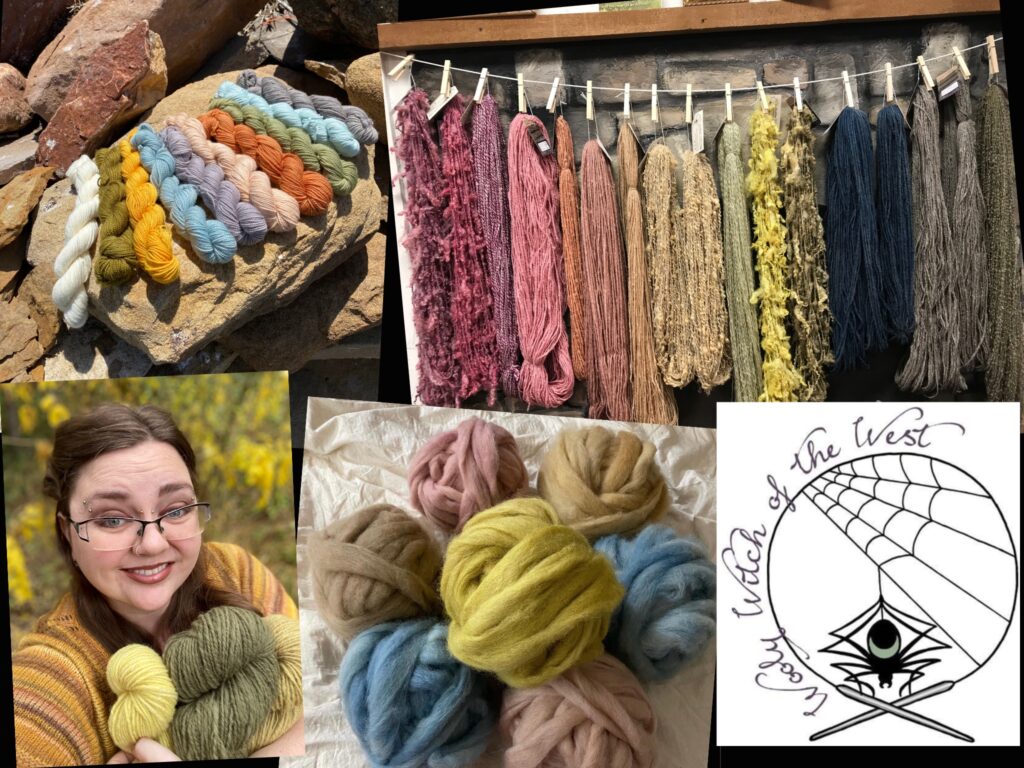 Madeline Keller-King
Madeline is known across the internet by her social media handle Wooly Witch of the West, as a fiber artist and natural dyer. While her fiber journey began with knitting it has since expanded to include her true loves – handspinning and natural dyeing. She works from her home in the woods of Northwestern Montana where she is blessed to be in community with many small-scale fiber producers & have an abundance of dyestuff growing in her own backyard. Every time she steps outside is a hunt for color! Madeline is a regular contributor to Spin Off Magazine, offers her naturally dyed yarns and fibers at fiber events, and teaches knitting, handspinning, and natural dye classes.
With a focus on sustainability, Madeline endeavors to source her materials as locally as possible, working the small-scale ranchers for fiber and harvesting many of her dye plants from surrounding woods.
You can view Madeline's work on her website, Facebook, and Instagram.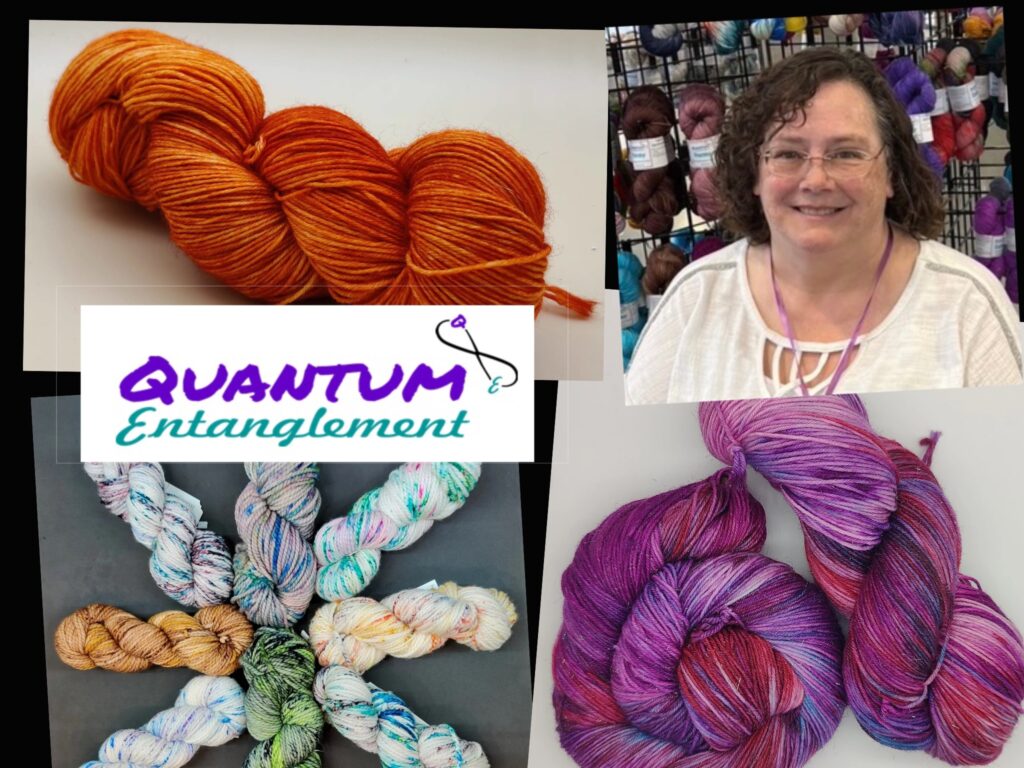 Molly Brusewitz
Quantum Entanglement Yarn began in our tiny kitchen in Kenmore, Washington when I got tired of looking at some yarn that had been in the shop for YEARS. No one was buying it and a customer suggested over-dying it. My husband Bob and I wound the yarn into cakes and placed them in gallon sized mason jar. We were hooked! Bob came up with the name "Quantum Entanglement" because he's proud to call himself a geek and he wanted something "spooky action at a distance" sounding. It's been a fun learning experience for me; I knew nothing about physics prior to this venture. We now have 7 yarn lines under the Quantum Entanglement brand, and Bob does all the naming: he's so good at it!
Quantum Entanglement can be found at Ties That Bind Yarn in Moses Lake WA as well as online on Facebook, and Instagram.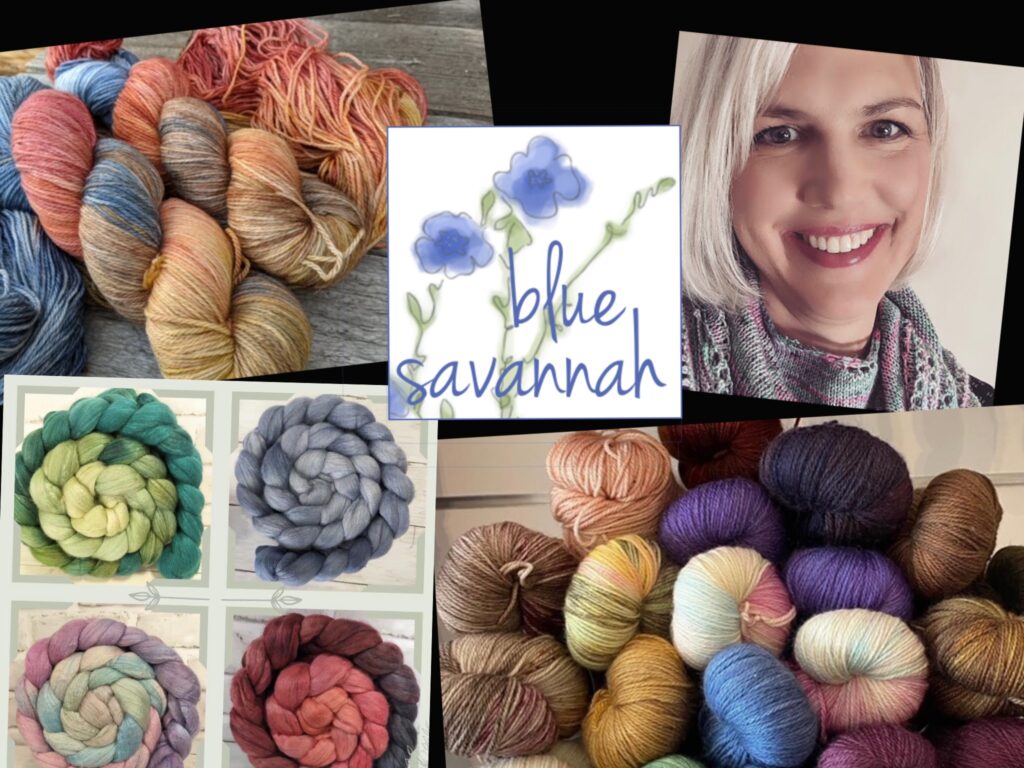 Kristin Milloway
Kristin lives on acreage in southeast Idaho where she raises children, vegetables, and rescue cats. She enjoys capturing the beauty around her on yarn and fiber, drawing inspiration from family life and Idaho.
Blue Savannah is dedicated to providing the highest quality products to fiber artists everywhere and offers a variety of luxury hand dyed yarn and combed top on delicious bases—because every fiber artist deserves to indulge!
You can find Blue Savannah on Facebook, Instagram, and Etsy.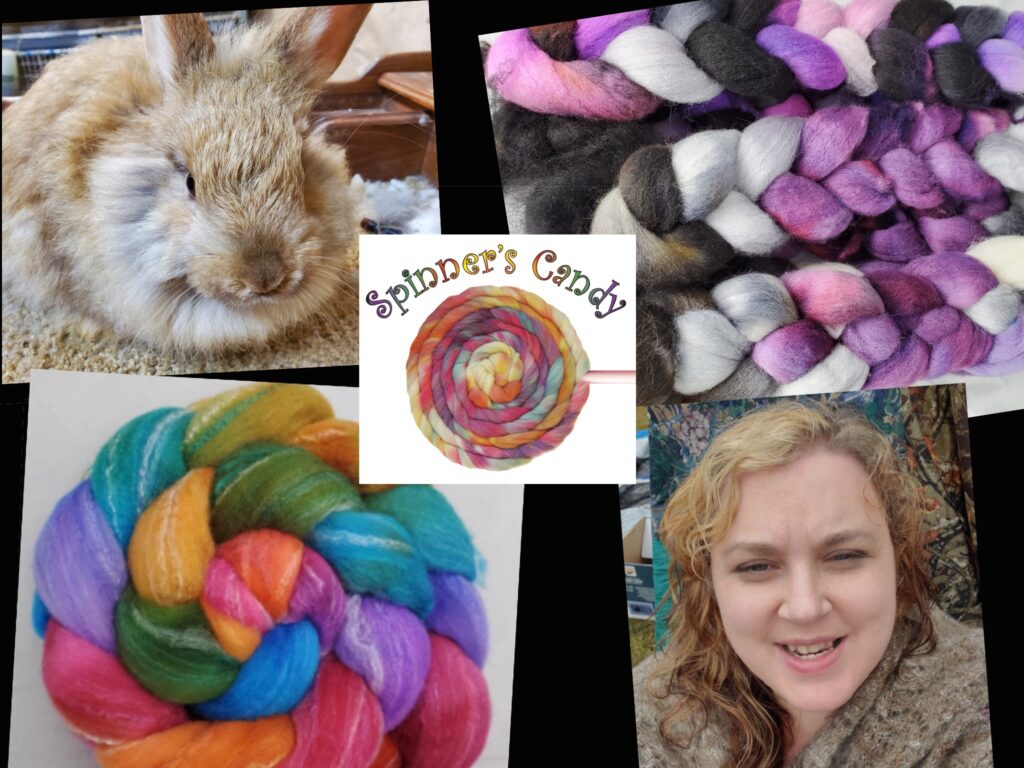 Deidra MacKimmie
Deidra began knitting when she was 5, crocheting since she was 6, and spinning since she was 17. It all started with a fluffy English Angora show rabbit at age 16. After showing her Honey Bunny in 4H for over a year, Honey Bunny became a mother rabbit, and sold her babies at Oregon Flock and Fiber Festival. It was there that a friend introduced her to spinning, and she's never looked back.
Spinner's Candy is an extension of my love of the fiber arts and the enjoyment I get sharing my passion with others. I specialize in bright, saturated, and high contrast dyeways. I also raise angora rabbits and love to use their fiber in my exotic farm blended roving and handspun yarns. I'm devoted to creating unique and beautiful fibers and yarns for the spinning, knitting & crochet community.
You can find Spinner's Candy on Instagram and Facebook.
Farm To Fiber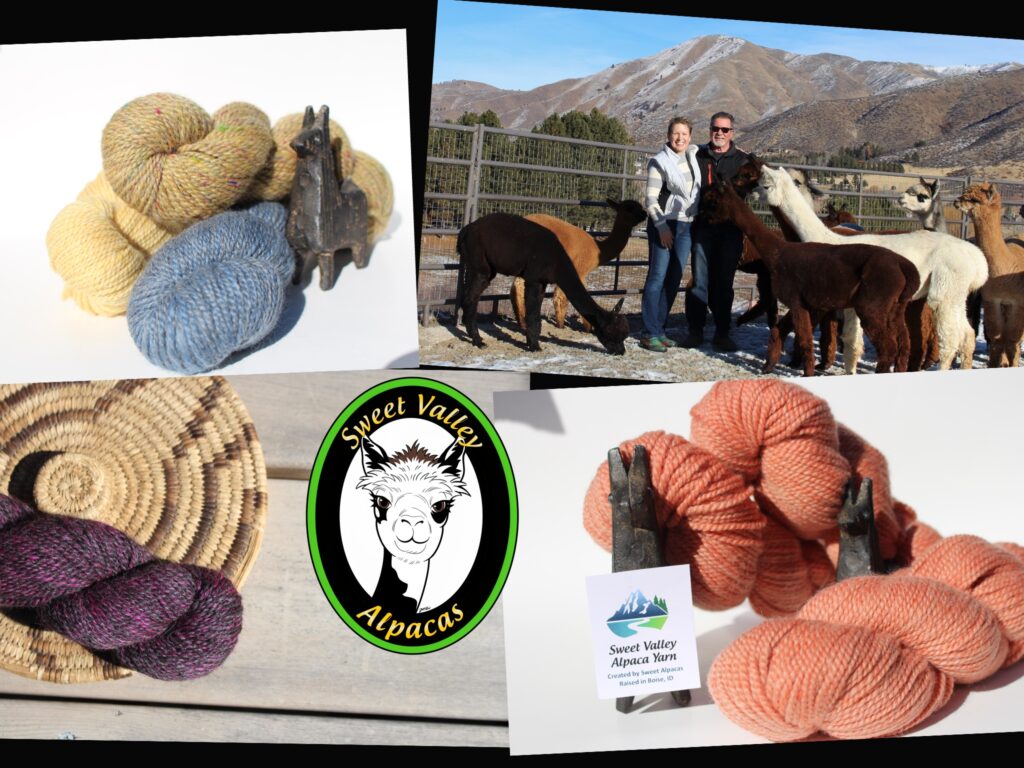 Valerie Dresslar and David Jones
Our Award-Winning Fleeces Produce Exceptional Quality Yarn.
We offer beautiful alpaca yarns, blends, roving, rug yarns and adorable hand carved wooden alpacas.
Valerie swears it's David's (aka husband, honey, and hunk) fault they now live on an alpaca ranch. "He took me to an alpaca farm, and I fell in love. We bought two and now we have 21 with two on the way. We have been raising alpacas for six years and have learned so much about their personalities and how to give them the best care. We love them and they love us back with the amazing and luxurious products they produce.
Sweet Valley Alpacas is located at the edge of the Boise National Forest. Valerie and David hand process their fleeces before they go to the local mill to create the end product. They work with the mill to devise premium fibers and yarns that enhance the finished creations of fiber artists.
If you're in the area, they do host ranch visits. Visit their Facebook page for more ranch visit information. Sweet Valley Alpacas can also be found on Instagram and Etsy.
Rusty Spur Ranch and Creations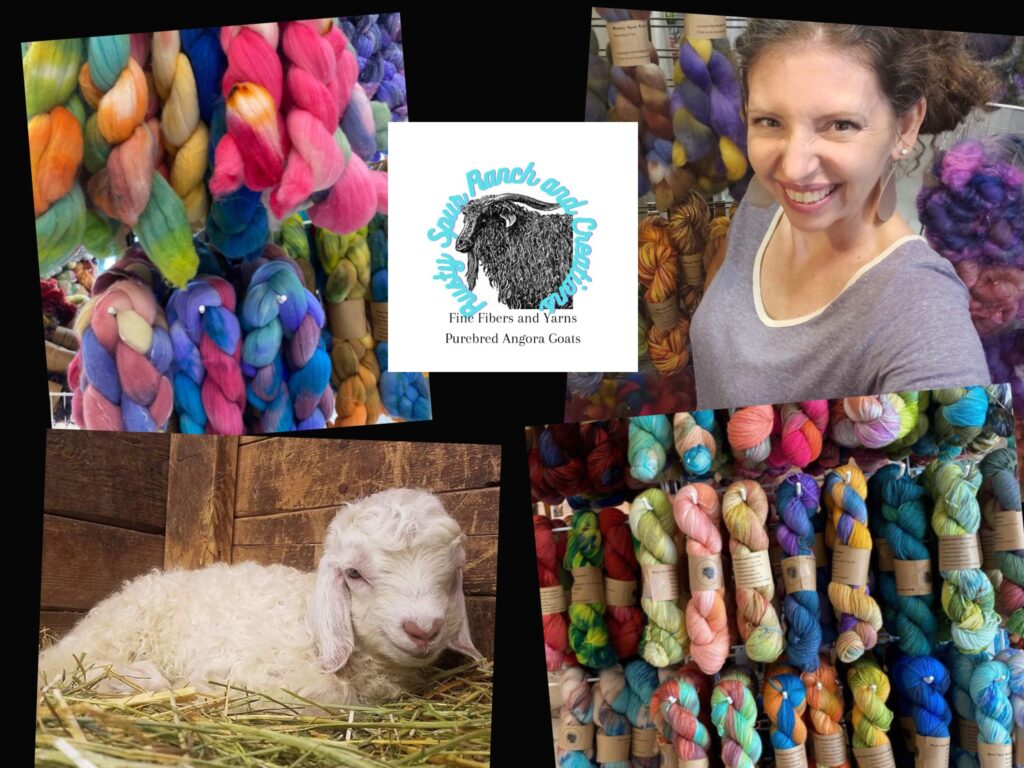 Susan Schroeder
Your Sparkling Color Goddess and Chief Mucker, Susan Schroeder, has over 20 years' experience with yarns and fibers. She has a passion for bright colors, creative techniques and can't crochet to save her life. She does, however, adore her goats (34 at the last count), knitting and spinning, while dabbling into machine knitting. She weaves and felts too! In the summer, you will often find her in the garden…probably wearing a Star Wars shirt…May the Force and the Fiber be with you!!
Rusty Spur has a serious love for curls, color and sparkle and aim to share that with you. All of our fibers and yarns are small batch, and often one of a kind to give you a unique crafting experience. Our handmade items are crafted with love and care, and reflect Susan's unique perspective. You can find Susan on Facebook, Instagram, or in her Shop.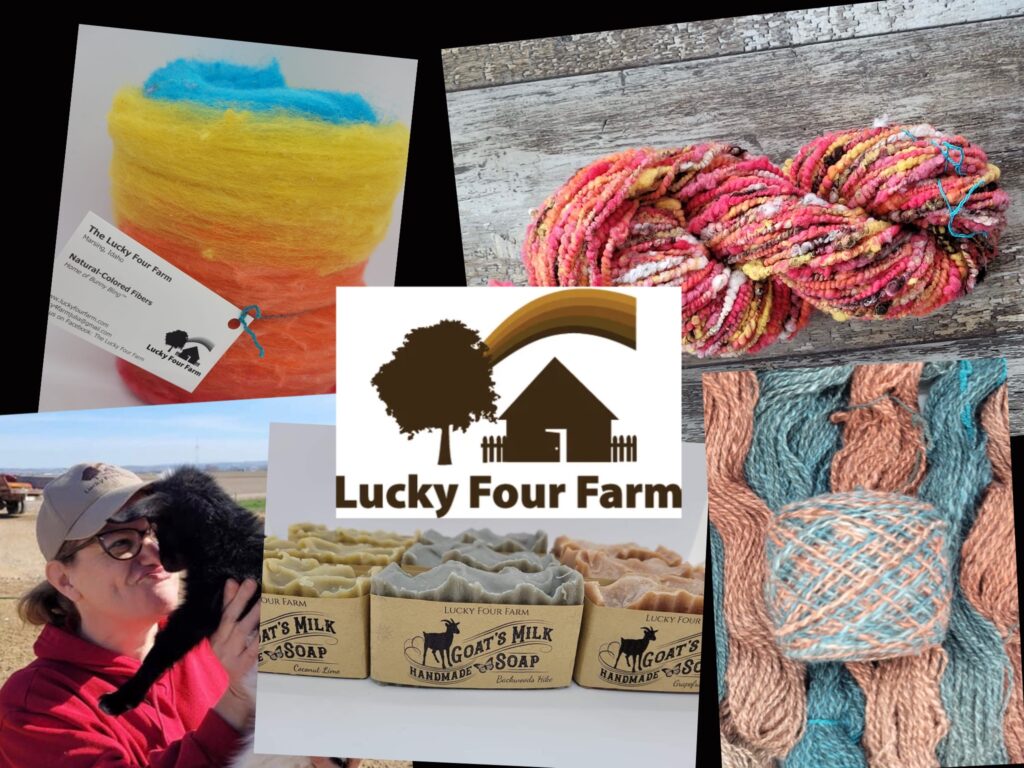 Julia Withers
The Lucky Four Farm is a small fiber farm nestled among vineyards, orchards, and farms, in Marsing, Idaho and has been a labor of love for the Withers family since 2009. The farm has been a dream come true for Julia, who took her love of knitting all the way to the finish line of raising her own sheep! The Lucky Four have merino cross sheep, dairy goats, and one ornery alpaca named Lucky. They produce beautifully hand-dyed, mill-spun yarn, hand-spun yarn, spinning fibers, goat milk soap, felt dryer balls, and felting kits.
Please visit us at Lucky Four Farm, Instagram, and Facebook.
Local Yarn Stores
The Yarn Underground, Moscow Idaho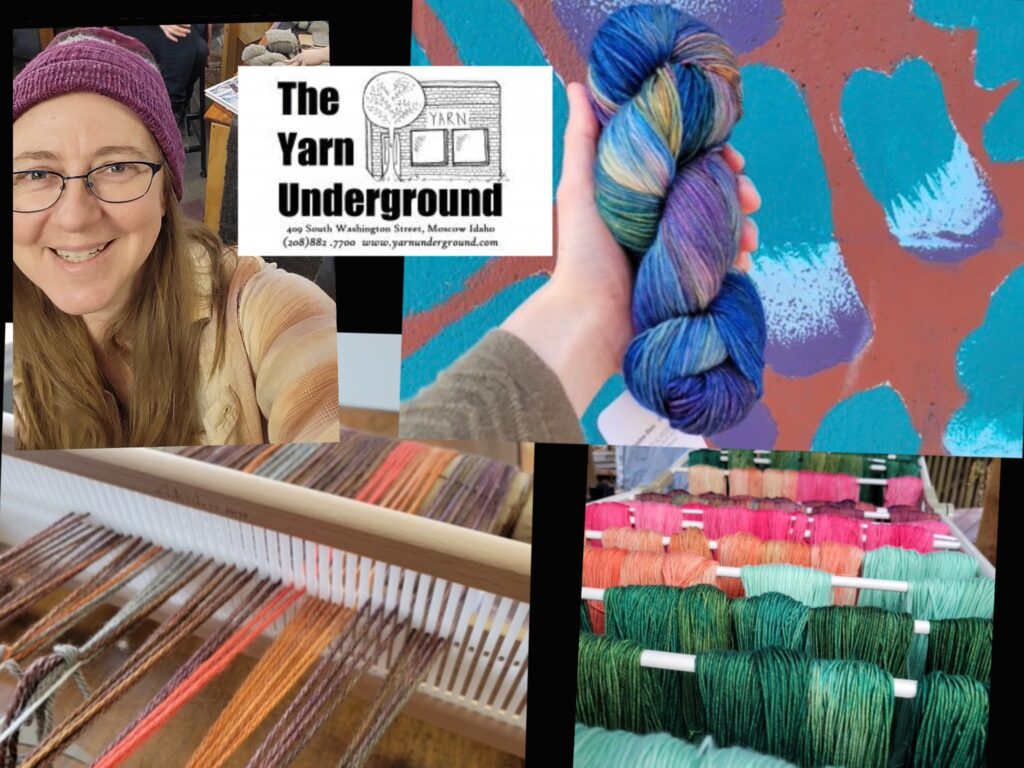 Shelley Stone
Shelley is the dyer behind Palouse Yarn Company and owns The Yarn Underground of Moscow, Idaho. The shop sells great tools for knitting, crochet, spinning, felting and weaving, plus awesome wooly yarns. She loves matching the right yarn to a project, delving into skills for deeper knowledge, and loves to help fiber enthusiasts find that 'aha!' moment. Join her for a one-on-one session by request at Fiber.Love.Retreat for a little help and hands-on with your spinning or for a rigid heddle warping lesson.
You can visit us on Facebook, Instagram, and Twitter.
The Yarn Underground, 409 S. Washington St, Moscow, Idaho 83843 (208)882-7700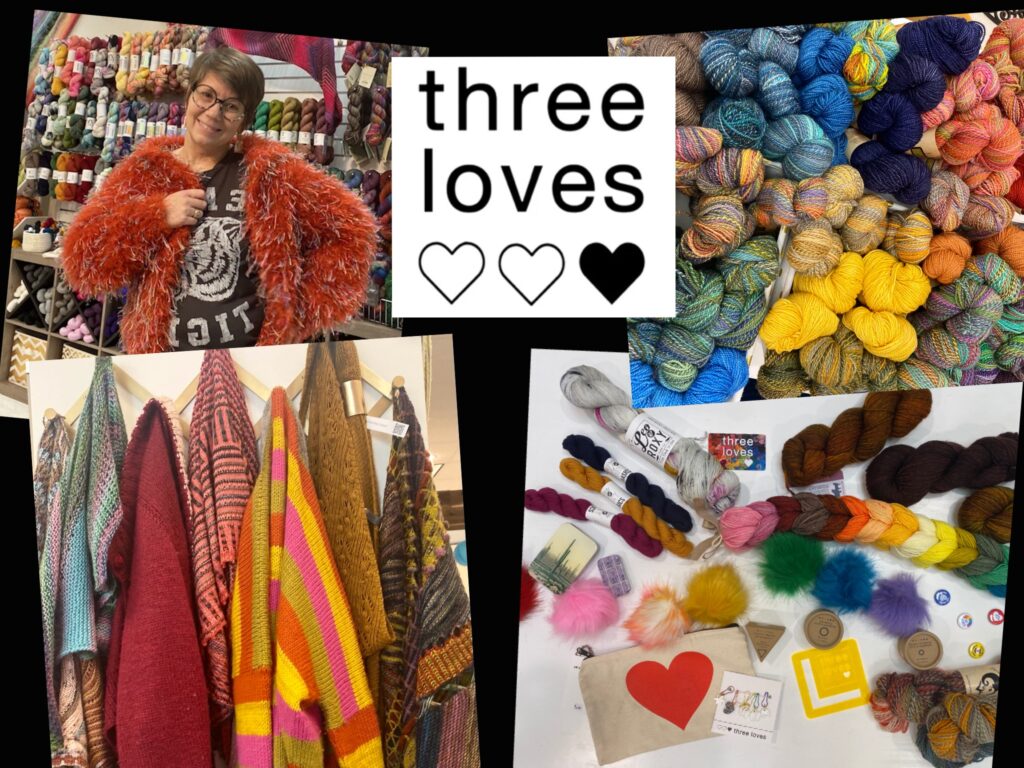 Erica Kafka
Erica has spent many years in the fiber industry, both in retail and production. She used to joke with friends about what her dream yarn shop would look like and in 2021 that wish became a reality! "My dreams were generally about the aesthetic; the lovely community that has assembled since the opening of my little shop is more than I could ever have imagined! I am so overwhelmed by the love and support of our local fiber community; stitching is better when we are all together!"
Three Loves offers boutique yarns, needles, notions, and gift items for all sorts of stitchers from beginner to seasoned expert. Their goal is to supply, care for, encourage, and grow the community of makers in the Treasure Valley and maintain a hands-on shopping and teaching facility. "Come see all the colors! Join us for our trunk shows, potlucks and late Friday nights; open until 9:00 p.m."
You can also find Three Loves on Instagram and Facebook.
Three Loves, 138 S. Midland Blvd. Nampa, Idaho 83686 (208) 943-1937
Other Artisans
Stone Cottage Pottery and Farm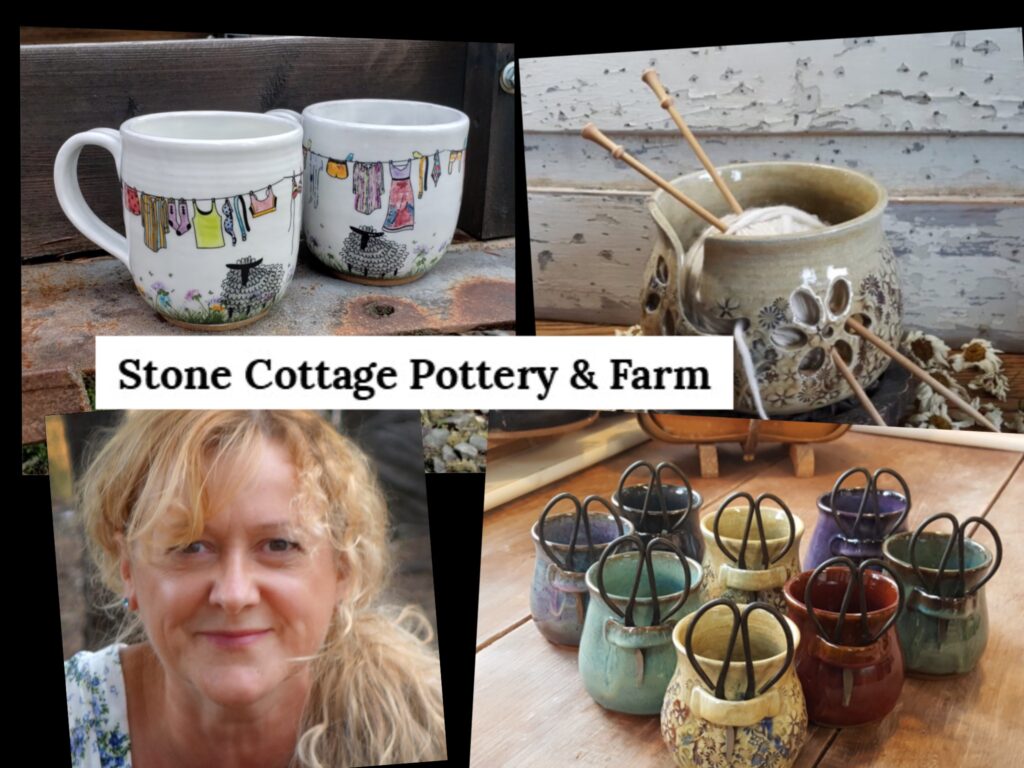 Patti Gregerson
Stone Cottage Pottery is handcrafted by Patti Gregerson at her studio, located in the outskirts of Glacier National Park. Overlooking a small quiet lake on her tiny subalpine hillside, Patti finds her serene environment and peaceful surroundings an inspiration for all she creates.
"I've been working in clay for 30 years and have come to use a brown stoneware or stoneware/porcelain mix, both sturdy and substantial clays. I feel they help to instill a rustic and hardy charm to my pottery. I love the essence of tradition and use time-honored pottery-making techniques. Through my pottery and fiber arts, I aspire to produce cherished items that help to instill those wonderfully nurturing aspects of life into the daily lives of others."
Stone Cottage Pottery and Farm exists to create useful things that help enhance life's simple pleasures and bring a sense of comfort and joy to people's lives.
You can visit Patti on her website, on Instagram, and on Facebook.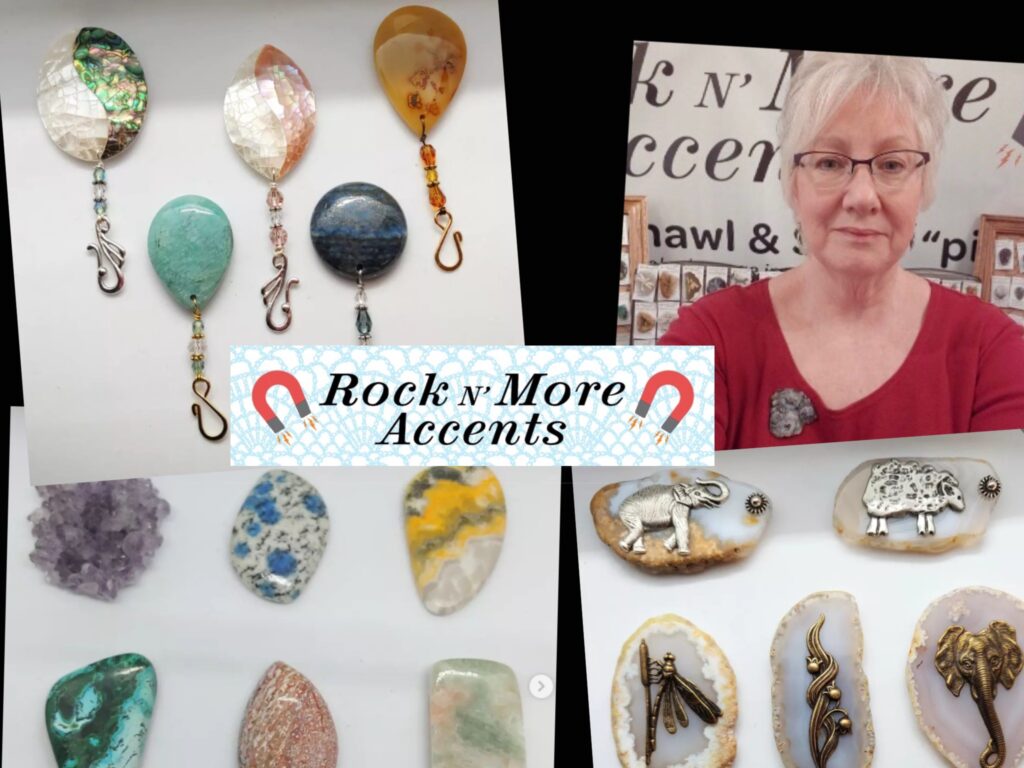 Michele Powell
Michele was taught to crochet by her mom at 12 years old. At 27 she was told that, indeed, she could learn to knit with two needles, even though the thought of it sounded unmanageable. Living in Iceland at the time she was so lucky to have all the Icelandic wool she could want. Little did she know what other wonderful fibers would be in her future. In 2004, she bought the yarn shop where she was employed and that's where she learned to spin.
The shop closed in 2012 and in 2014 Michele began making her magnetic pins with natural stone. Since then, she has added fused glass and Czech glass buttons to her product line, along with Portuguese knitting pins. Michele lives in Corvallis, Oregon with her husband Bill and has 2 daughters and 5 grandchildren. She is still hoping that in the future one of them will show interest in learning one of her crafts.
In addition to many local and regional fiber events, Michele can also be found at Rock N' More Accents, on Facebook and Instagram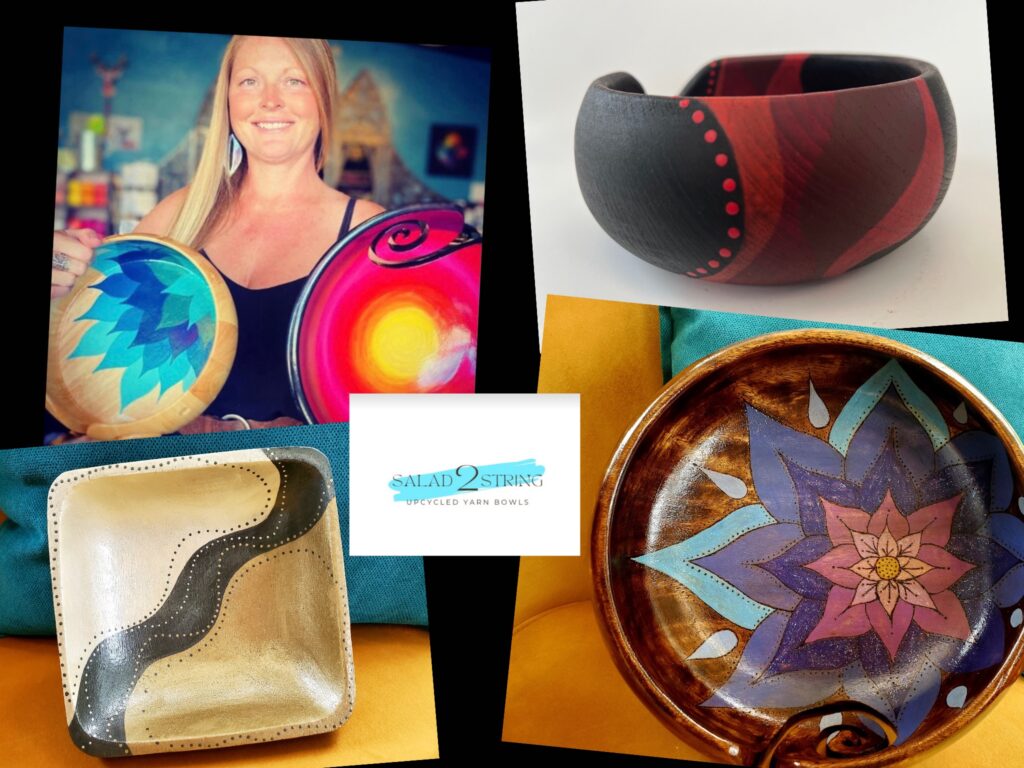 Leah Hintz
Leah is a sixth generation Treasure Valley native and works on her quaint farm in Kuna Idaho. Besides chickens and ducks, Leah raises goats and adorable children.
Leah has been a lifelong crafter and an avid knitter. Having an active lifestyle and bustling household led her to seeing the need for a stylish yet durable yarn bowl. This was the beginning of her journey with reclaiming wooden salad bowls and turning them into unique, one of a kind works of art. After stripping the original varnish, each bowl is cut, shaped, and sanded, creating a blank canvas. Then each the original design is either hand painted with watercolors, burned, or stained, the bowls are then sealed with Daddy Van's Lavender Beeswax. Each bowl has hours of time invested, creating a piece that's not only functional, but an heirloom quality tool for fiber artists.
You can see Leah's work on Facebook and Instagram.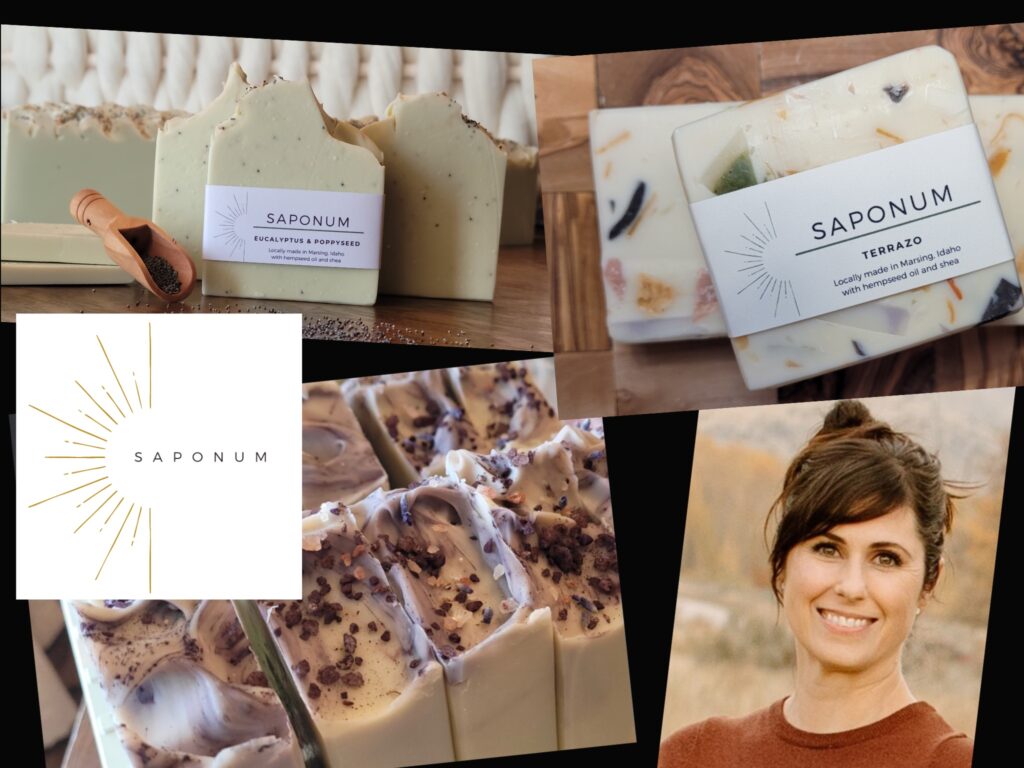 Jenny Selby
Jenny is an ER nurse by day, soap maker by days off (because you know nurses are not getting nights off!) Jenny lives in Caldwell with her husband, children, horses, chickens, dogs, cats and one burro. When Jenny isn't at work, or caring for her crew, she's making soap, lotions, lip balms, body scrubs and solid dish soaps in her studio. She started making luxury self-care products during the pandemic as a way to cope with the stress that came with it, especially for the medical profession.
Jenny's products are all natural, skin-loving oils and butters. She uses natural fragrances and essential oils. Her philosophy on skin care is to keep everything as natural and organic as possible, but also functional so they work effectively, while nurturing your sense of smell and touch.
You can find Jenny on Facebook, Instagram, and her website.
2023 Sponsors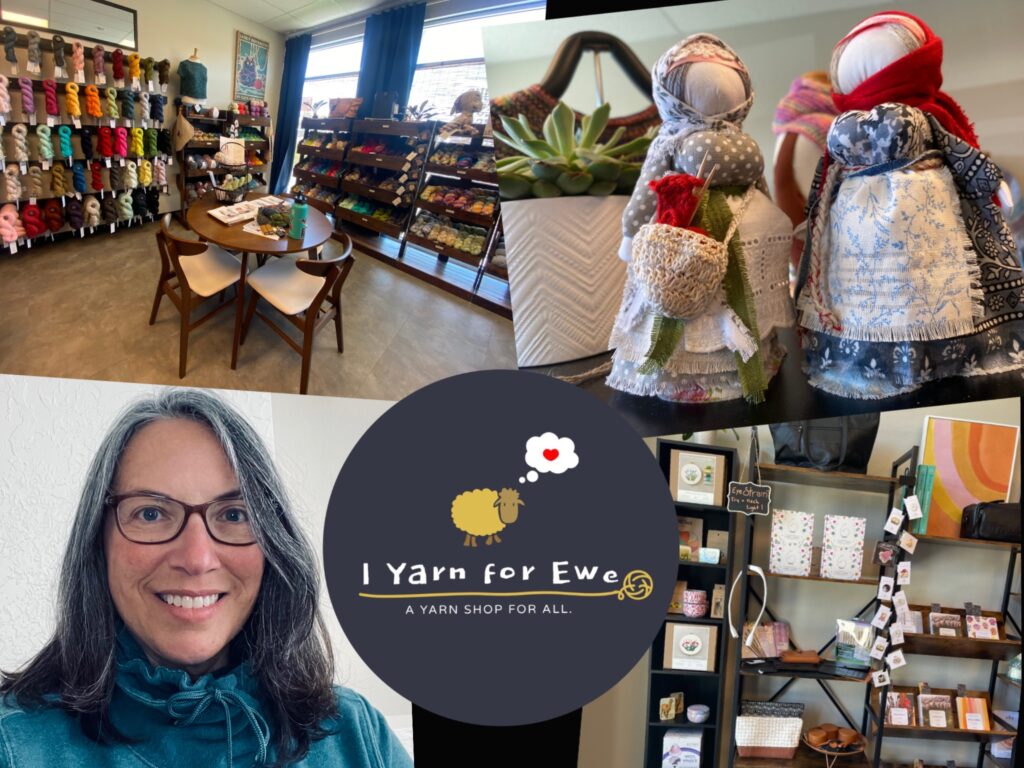 Kerrie Nicholson
Kerrie, the owner of I Yarn For You, had been looking for a business opportunity she could build and rely on to retire from her career job as an environmental consultant. When the Twisted Ewe closed, Kerrie knew that she could fill a gap in the community. Hence the beginning of I Yarn For Ewe. The shop proudly offers yarns and fibers, in a wide variety, for those who are budget conscious, as well as luxury yarns. They also offer tools, classes, one of a kind project bags, as well as carrying a selection of handmade gift items, crafted by local artisans.
"I love yarn, knitting, and crocheting, and I love to hang out with those who also love yarn, knitting, and crocheting. I'm here to provide the goods, a place to gather, and a place of inspiration. I look forward to learning from all of you."
Let's knit and crochet with beautiful yarn forever!
You can find Kerrie at her website, on Facebook, and on Instagram.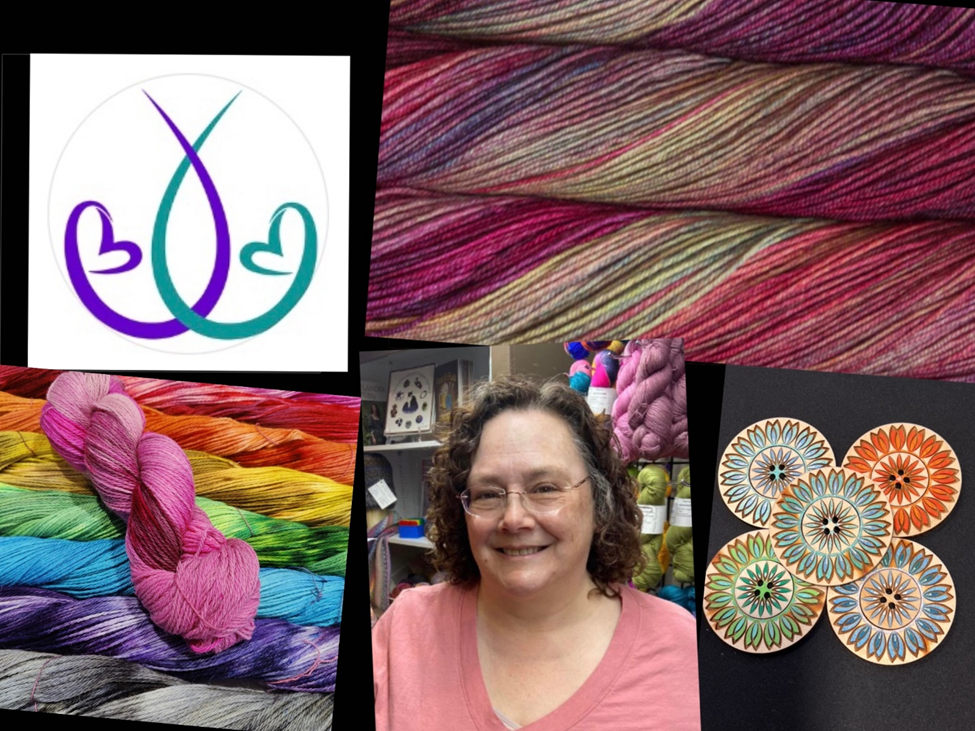 Molly Brusewitz
Ties That Bind Yarn is a friendly community gathering place for fiber arts enthusiasts in the Moses Lake, Washington area. We carry an extensive selection of fine yarns in stunning colors and textures, along with an assortment of fiber crafting notions and accessories to meet a variety of knitting, crocheting, and fiber needs.
Our store features a casual, welcoming environment where we offer a wide range of fun, interactive classes, and individualized Instruction. No matter your skill level or project size, our enthusiastic, knowledgeable staff are always happy to answer your questions. We'd love to have you join us during our open stitching social hours.
Located in the Smith Martin Building at 102 E 3rd Ave, Moses Lake, Washington.
(509) 761-9196
You can find us on Facebook, Instagram, and our website.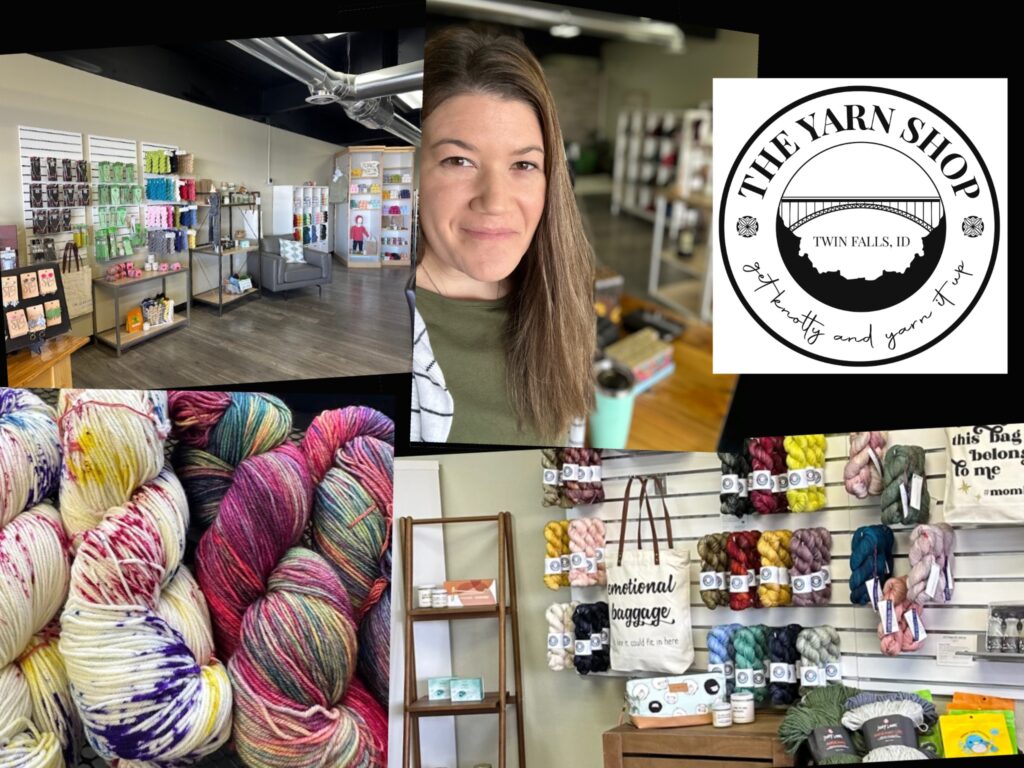 Kelly Souder
At The Yarn Shop, we're a small family-run business that values supporting Idaho-, PNW-, and USA-made products whenever possible. We offer yarns, needles and hooks, notions, classes, and social stitch nights. We believe using high quality fibers and tools is important when you're spending hours creating, and we work hard to provide those quality fibers and notions at affordable prices to increase accessibility. Our goal is to provide a safe and friendly environment for everyone to have the opportunity to shop, create, learn, and socialize. Yarn it up!
Kelly lives in Twin Falls, Idaho with her husband (Lon) and 5 children. They're a proud military family. She is a veteran; Lon is currently serving. She survives on coffee, humor, and all things yarn. She's also recently discovered a love of creating patterns.
You can also find The Yarn Shop on Facebook and Instagram.
556 Blue Lakes Blvd N, Twin Falls, ID (208) 886-0883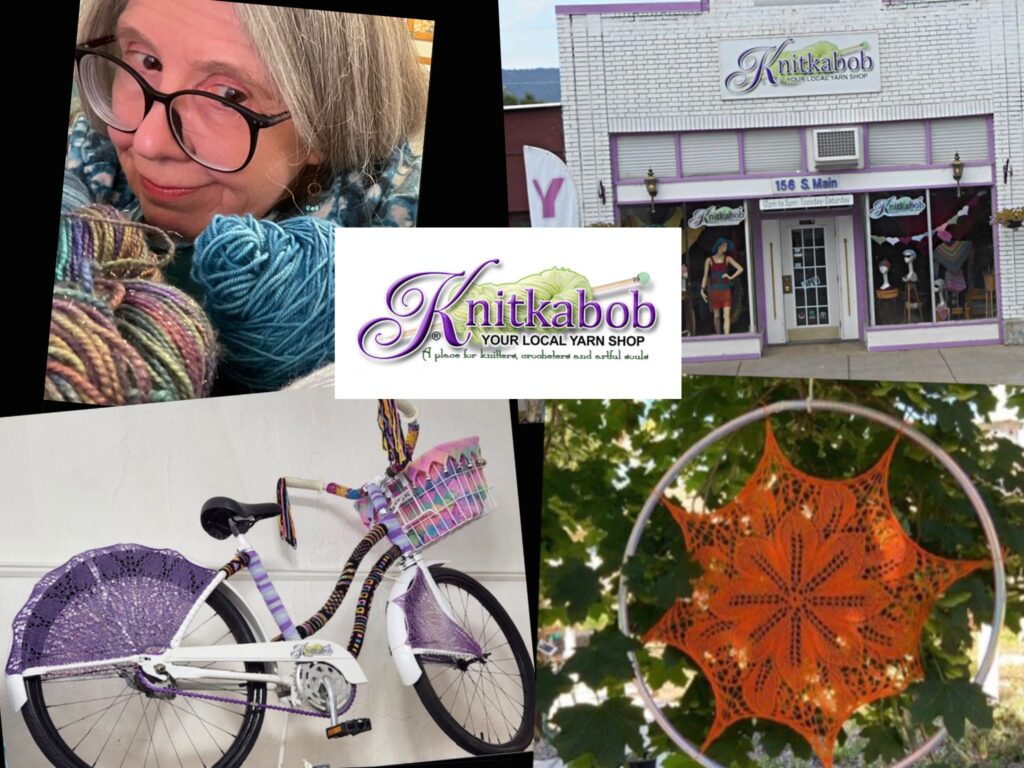 Maggie Owens
Knitkabob®, a yarn shop in historic downtown Union, Oregon features a wide selection of
yarns, knitting and crochet supplies, and offers classes for beginning to advanced crafters.
The shop offers an inviting and relaxing atmosphere, where customers are encouraged to have
a seat and knit or crochet while chatting with other makers. With her many years of knitting and
crocheting, and her many years of teaching, Maggie is always happy to help knitters or
crocheters with projects, from selecting the perfect yarn to interpreting complicated patterns.
You can find Knitkabob on Facebook, and Instagram.
Knitkabob, 156 S. Main Street, Union, Oregon 97883 (541)562-2276
Keep Me In Stitches, McCall Idaho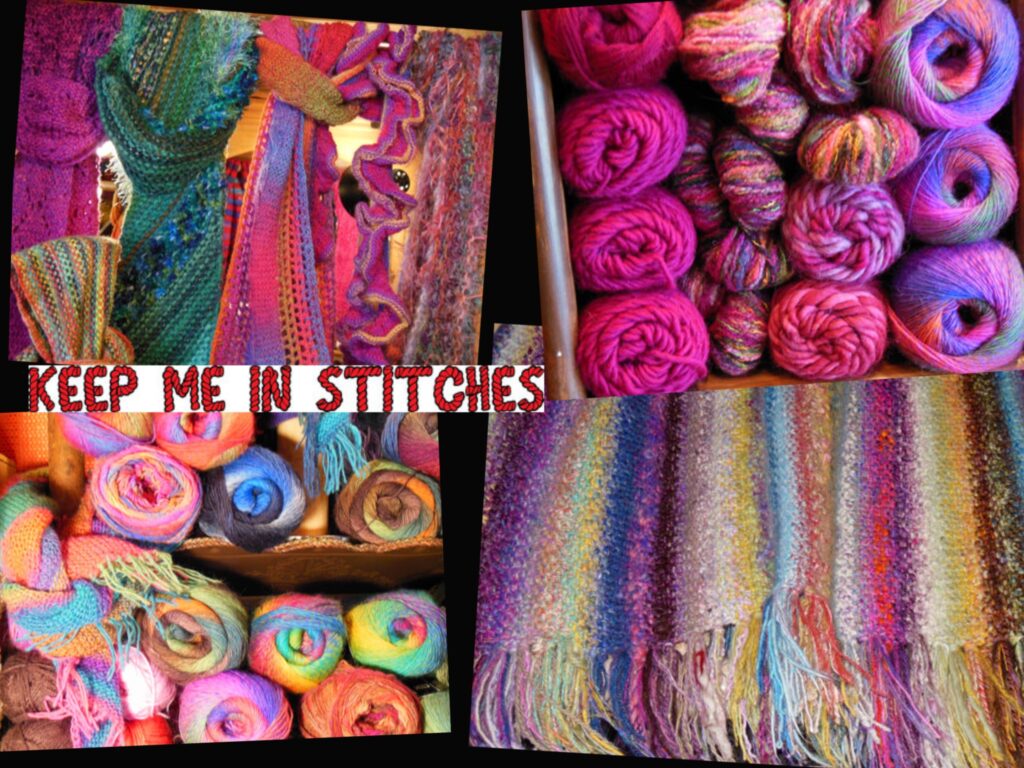 Lynda Vrgora
In 1993, from humble beginnings, Keep Me In Stitches was founded. With hand spun and individually dyed unique and one-of-a-kind items, Keep Me In Stitches has been the heart of the crafting community for nearly 30 years. The shop carries exquisite yarn blends from silk and cashmere to alpaca and merino. Nestled in the mountains of Idaho, Keep Me In Stitches is the top spot to go to for yarn, good laughs, and great company.
Lynda can be found on Instagram too.
Keep Me In Stitches, 136 E Lake Street, McCall, Idaho 83638 (208)634-2906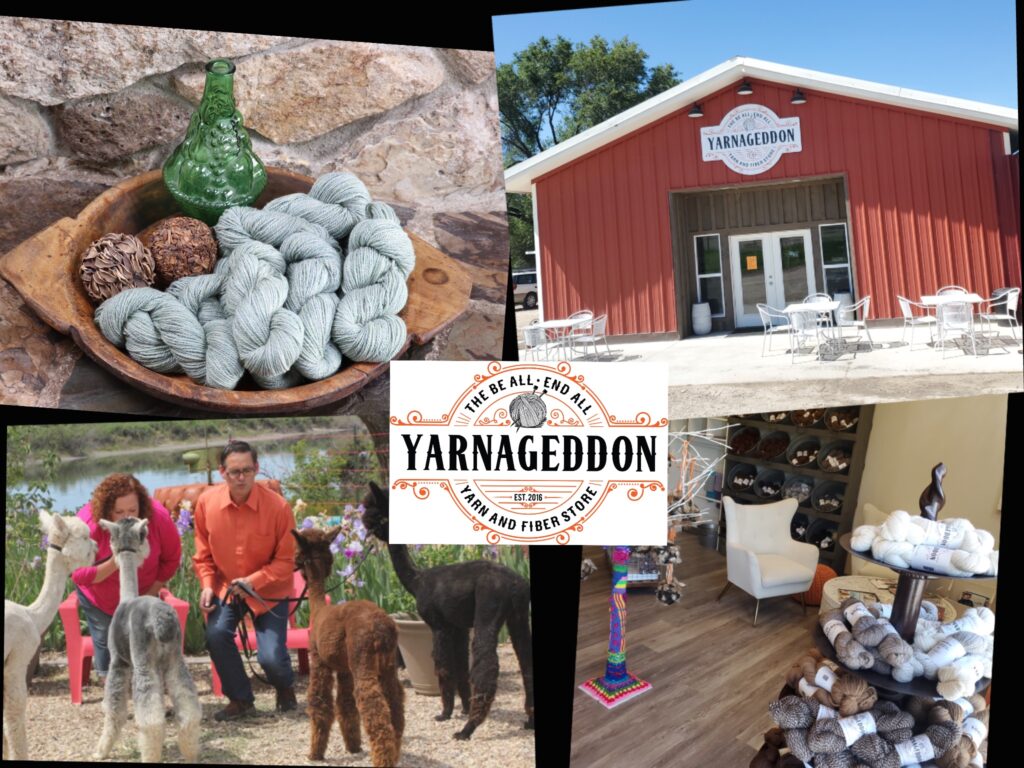 Candice and Eddie Van Hout, Caldwell, Idaho
At Yarnageddon, we are truly "Farm to Fiber". From Candace: "It all started with a knitting class at the downtown Boise Community Center; one of those crazy lifetime goals that I was bound and determined to learn and check off my list." After hearing her teacher talk about the beauty of the alpaca's and her love for their fiber, Candace and Eddie had to find out for themselves. From researching the animal, and touring many alpaca ranches, to buying a mill, to opening their dream store, Candice and Eddie are absolutely "all things alpaca!" Nestled in the beautiful hills of Caldwell, Idaho where orchards and vineyards roll along the mighty Snake River, you'll find Fireball Alpacas, the alpaca ranch, I Make Yarn, their in-house fiber mill, and Yarnageddon, a quaint yarn shop that features their gorgeous yarn. This is definitely a destination that should be on any fiber artists map of places to go! You can find Yarnageddon on Facebook and Instagram, and you can find I Make Yarn on their website.
11901 River Rock Lane, Caldwell Idaho, 208-473-0374