If you are interested in being a vendor at Fiber.Love.Retreat. then please use the Contact Us form and let us know a bit about you and your products.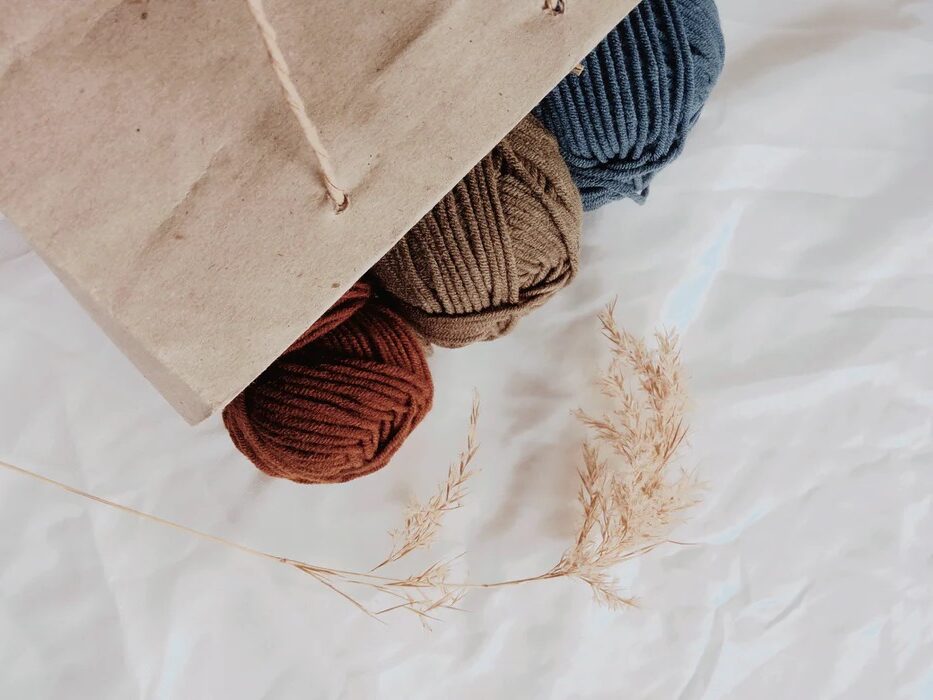 We've had a number of inquiries about "drop ins" at the retreat. In order to be fair to all of the folks who have paid to attend, we have decided to only allow drop ins after lunch service ends at 1:30 pm, on Market Day, Saturday, August 20th. We want registered attendees to have the first couple of shopping hours exclusively, before any drop in visitors. In addition, proof of vaccination is required for folks who are coming to shop on Saturday afternoon. We ask that visitors stop by the market welcome table before shopping to receive a lanyard. Visitors must wear this lanyard while at Camp Ida-Haven, and we ask that attendees wear their lanyards on Saturday as well. Visitors are welcome until the market closes at 5:00 pm; once the market is closed, dinner and the evening activities will begin, and the venue is for registered attendees only. We do request that visitors not go in the main lodge area, the upstairs dorm rooms or the cabins, unless accompanied by a registered attendee. Please feel free to contact us with any questions you might have about this. Thanks for your understanding and co-operation.
Indie Dyers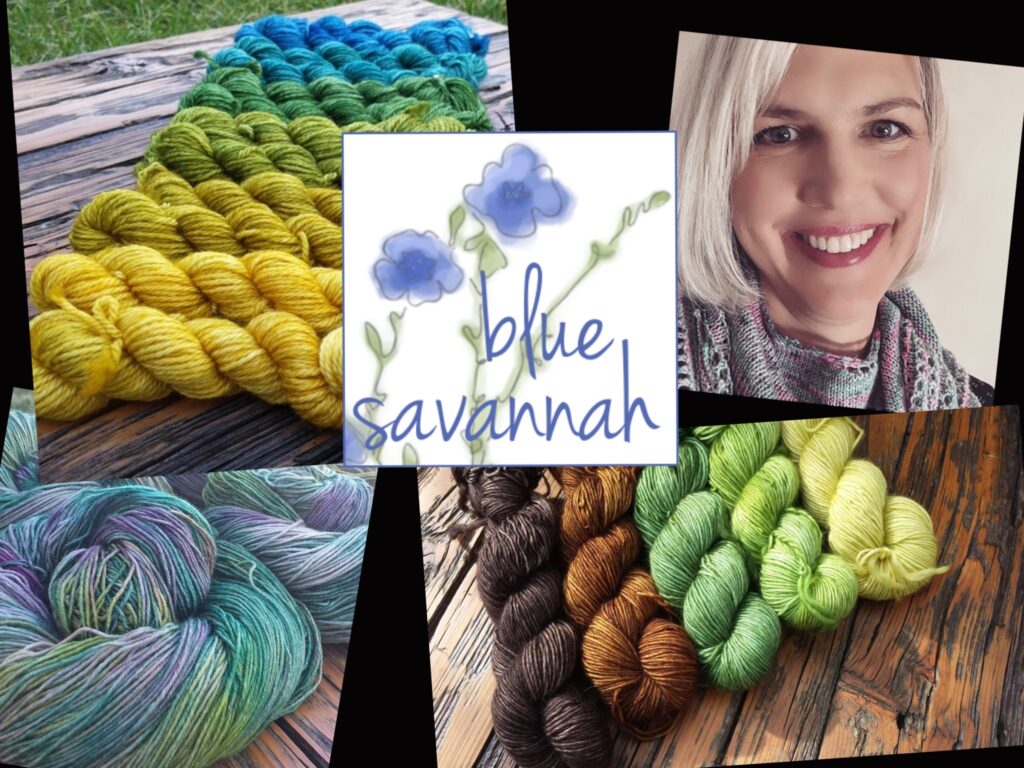 Kristin Milloway
I live on acreage in Idaho where I raise organic vegetables, chickens, and children. I strive for a whole-food diet and drink entirely too much coffee. I'm an avid reader and knitter, and I enjoy building rest and beauty into everyday life. I find great delight in my art and in taking inspiration from the life around me – my children, my garden, and the beauty of Idaho.
I'm dedicated to providing the highest quality products to fiber artists everywhere. In 2007, I learned to knit and fell in love with dyeing wool. Blue Savannah, which had been dedicated to sales of handmade soap and hand-dyed silk scarves, grew out of that passion. I love working with luxury yarn and combed top bases as a medium for original semi-solids, kettle dyed, and hand painted colorways. All products are hand-dyed by me in small dye lots.
You can find Blue Savannah on Facebook, Instagram, and Etsy.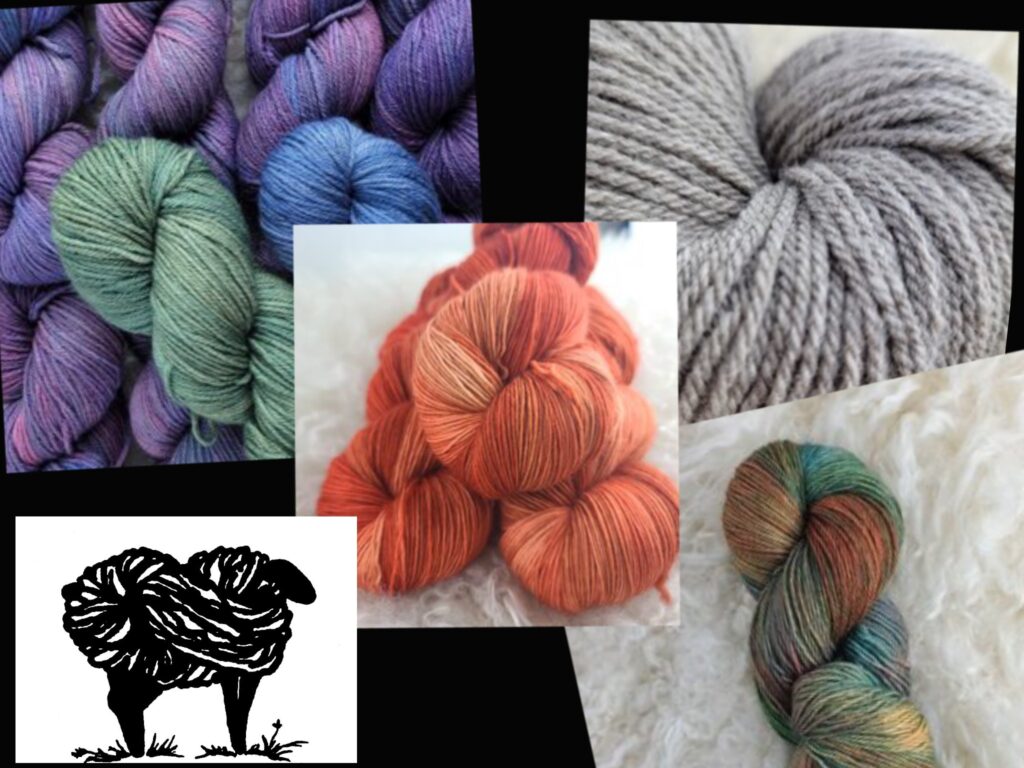 Shelley Stone
Palouse Yarn Company is a nature-inspired independent yarn dyeing studio located on the rolling hills of the Palouse Prairie, in Northern Idaho!
Dyeing with inspiration from nature in the Pacific Northwest, colors are saturated, tonal, and great for larger projects. Family owned and operated, Palouse Yarns is the house brand of The Yarn Underground in Moscow, Idaho.
You can also find Palouse Yarn Company on Instagram, Etsy, and Facebook.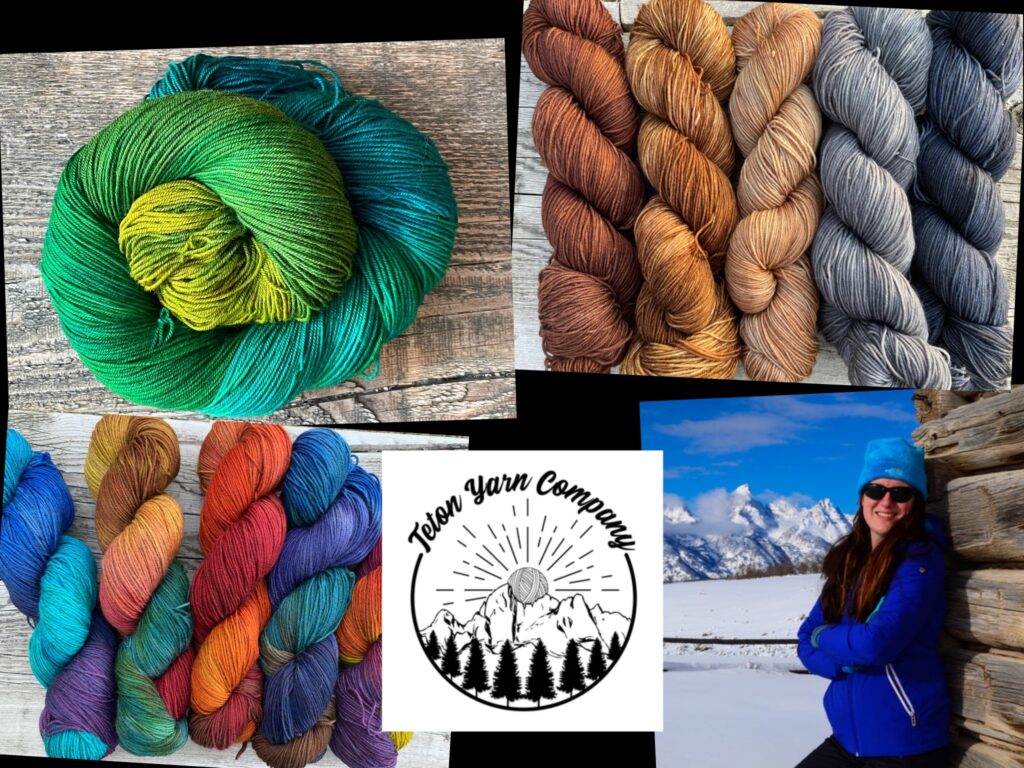 Sarah Kain
A Love for Nature Fires My Love for Color
Nature has always been my primary source of artistry for color. The Tetons are the inspiration for most of my colorways. There are always new color revelations around every corner; from the blooms of wildflowers, the high mountain lakes, to fiery sunsets. I founded Teton Yarn Company because I love to knit, I love color, I love the mountains and being able to combine my passions to share with you.
At Teton Yarn Company, we celebrate yarn, color and the Tetons! Offering a variety of hand-dyed wool yarns for the fiber artist, from delicate laceweight yarns to worsted weight yarns, and all weights in between. All my yarns are hand-dyed by me in my studio in the heart of Teton Valley, Idaho. I dye small batches of one of a kind variegated multi-color colorways and a rainbow of tonal colorways for the fiber artist.
You can also find Sarah on Facebook and Instagram.
Merri Williams
I was exposed to knitting and sewing as a young girl still in grade school. Knitting was short-lived – the knit and purl stitches were easy enough, but I could never figure out why my cables twisted different directions. Those jumbled cables were such a frustration that my knitting days were quickly history! As I grew older, I tried other textile arts – crochet, machine knitting, embroidery, cross-stitch, needle-point, macrame and basket weaving – but hand-spinning was an accidental discovery!
Well, one thing led to another, I ended up with a spinning wheel and some spinning lessons. I purchased a few ounces of raw fleece, and a fiber sampler from an on-line shop. I tried spinning cotton balls from the store and lint from the dryer. I joined a spinning group focused on studying various breeds. I conducted my own breed study. I started buying raw fleeces. I started buying other fibers. I started collecting my dog's hair. I tried twisting blades of grass, stalks of plants, anything that was pliable got twisted between my fingers! I started playing with dyes. I started carding my own fibers. I tried spinning with different types of spindles. I lusted after more spinning wheels! You get the picture – I was addicted!
Soon after, I started my business and appropriately named it The Fiber Addict.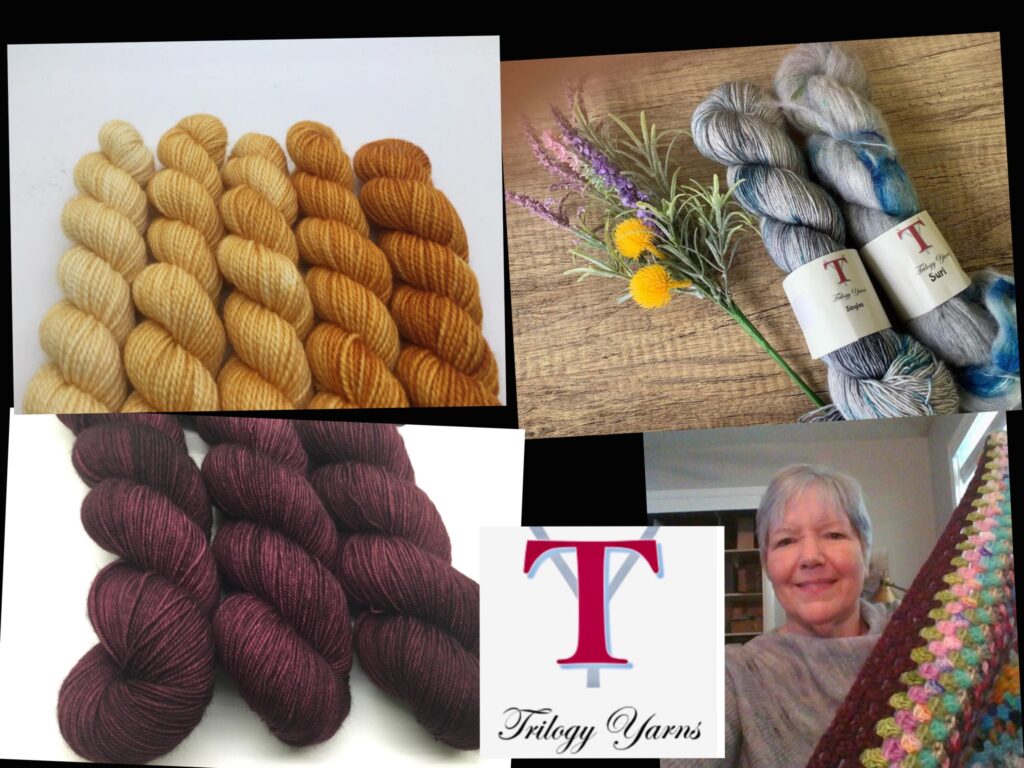 Nancy Olfs
My fiber journey started when when I was a little girl. I remember Sunday evenings, the family would gather to watch slide shows. As we sat together in the dark I could hear my grandmother's knitting needles clicking and my desire to knit grew from those moments.
My knitting practice started and stopped many times throughout my young adult life. I didn't realize how important knitting would become to me until my daughter unexpectedly passed away and knitting quickly became my go-to release. Fast forward many years, and once again I found myself turning to knitting as a stress reliever when my husband was diagnosed with a rare form of cancer.
I taught him to knit when he became too ill to work, and he loved it! We started to play with yarn dyeing too, but it got set aside as he got sicker. He was a trooper, but his body grew tired and he passed away. Trilogy Yarns is in memory of him; I know that with each skein I dye, he is there with me.
You can also find Trilogy Yarns on Facebook and Instagram.
Farm To Fiber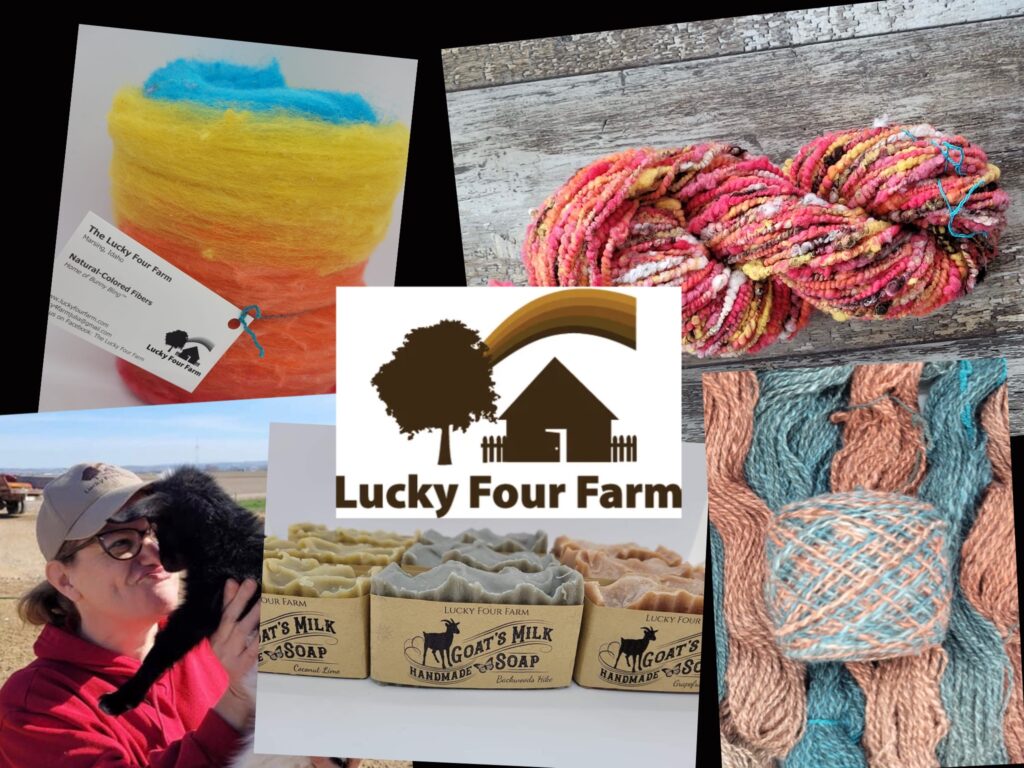 Julia Withers
The Lucky Four Farm is a small fiber farm nestled among vineyards, orchards, and farms, in Marsing, Idaho and has been a labor of love for the Withers family since 2009. The farm has been a dream come true for Julia, who took her love of knitting all the way to the finish line of raising her own sheep! The Lucky Four have merino cross sheep, dairy goats, and one ornery alpaca named Lucky. They produce beautifully hand-dyed, mill-spun yarn, hand-spun yarn, spinning fibers, goat milk soap, felt dryer balls, and felting kits.
Please visit us at Lucky Four Farm, Instagram, and Facebook.
Rusty Spur Ranch and Creations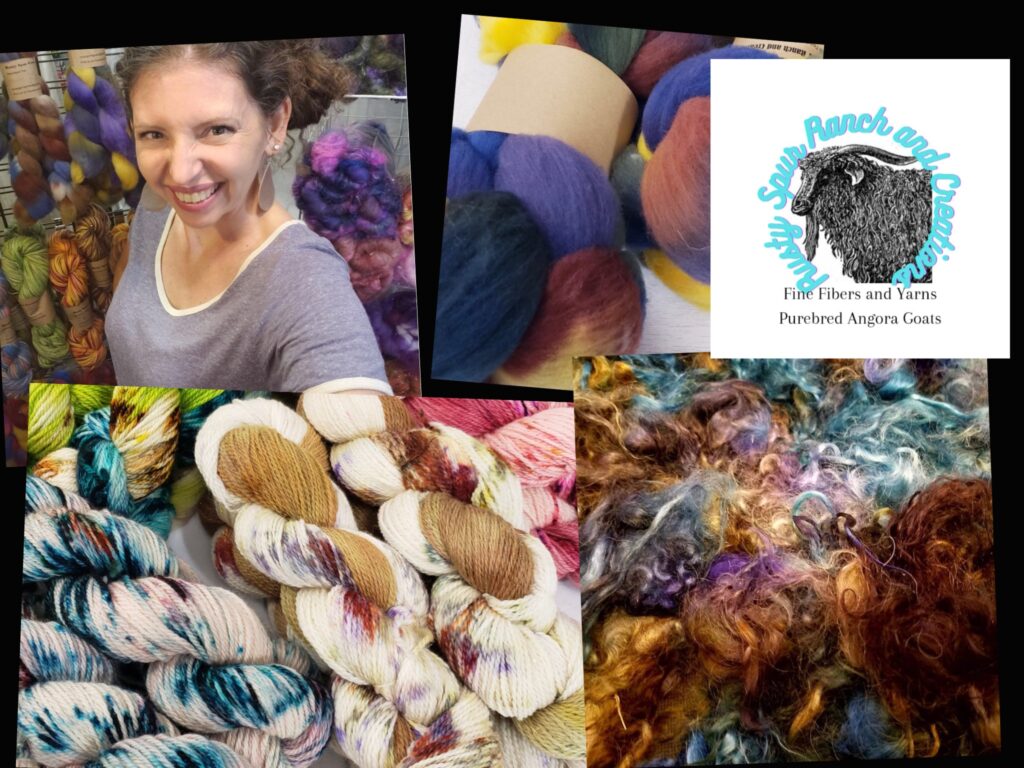 Susan Schroeder
Your Sparkling Color Goddess and Chief Mucker, Susan Schroeder, has over 20 years experience with yarns and fibers. She has a passion for bright colors, creative techniques and can't crochet to save her life. She does, however, adore her goats (41 at the last count), knitting and spinning, while dabbling into machine knitting. She weaves and felts too! In the summer, you will often find her in the garden…probably wearing a Star Wars shirt…May the Force and the Fiber be with you!!
Rusty Spur has a serious love for curls, color and sparkle and aim to share that with you. All of our fibers and yarns are small batch, and often one of a kind to give you a unique crafting experience. Our handmade items are crafted with love and care, and reflect Susan's unique perspective.
You can find Susan on Facebook, Instagram, or in her Shop.
Candice and Eddie Van Hout
At Yarnageddon, we are truly "Farm to Fiber". From Candace: "It all started with a knitting class at the downtown Boise Community Center; one of those crazy lifetime goals that I was bound and determined to learn and check off my list." After hearing her teacher talk about the beauty of the alpaca's and her love for their fiber, Candace and Eddie had to find out for themselves. From researching the animal, and touring many alpaca ranches, to buying a mill, to opening their dream store, Candice and Eddie are absolutely "all things alpaca!" Nestled in the beautiful hills of Caldwell, Idaho where orchards and vineyards roll along the mighty Snake River, you'll find Fireball Alpacas, the alpaca ranch, I Make Yarn, their in-house fiber mill, and Yarnageddon, a quaint yarn shop that features their gorgeous yarn. This is definitely a destination that should be on any fiber artists map of places to go! You can find Yarnageddon on Facebook, you can find Fireball Alpacas and Yarnageddon on Instagram, and you can find I Make Yarn on their website.
Yarnageddon, 11901 River Rock Ln. Caldwell ID (208) 473-0374
Project Bags and Other Delights
Tonya Messier and Sandy Potter
I have always enjoyed crafting in many different ways crochet, cross-stitch, some sewing, but I never could wrap my head around knitting.
When I was 39, (or 29, ten years in a row…) my oldest son, having suffered a traumatic brain injury, told me that he wanted to learn how to knit. I knew I would need to learn as well, so I could help him. It only took one cast on and I was in love with knitting. In 2020, my family moved to Idaho, leaving my parents in Alaska. A couple of weeks later and everything was locked down. Anthony and I needed our knitting community back so we started a YouTube Channel. We knit together, and when the mood strikes us we dye yarn together. We laugh and just enjoy the amazing knitting community we are all a part of building.
And just like every proper knitter we have projects, and those projects all need project bags. I am lucky enough to have a mom who loves her sewing machine like I love my knitting needles. She makes the most amazing bags and then she sends them to me. SCORE!!
We decided about a year into the pandemic that if she made project bags for more than just for me, and I talked about them on the YouTube channel with Anthony that maybe others would love her bags as well. They did! Very much. So now we sell mom's bags on our website. My mom will be traveling from Alaska to be a part of the retreat so she can enjoy this fiber community she hears me talk about constantly.
You can also find Karma's A Stitch on YouTube, Instagram, and Facebook.
Local Yarn Stores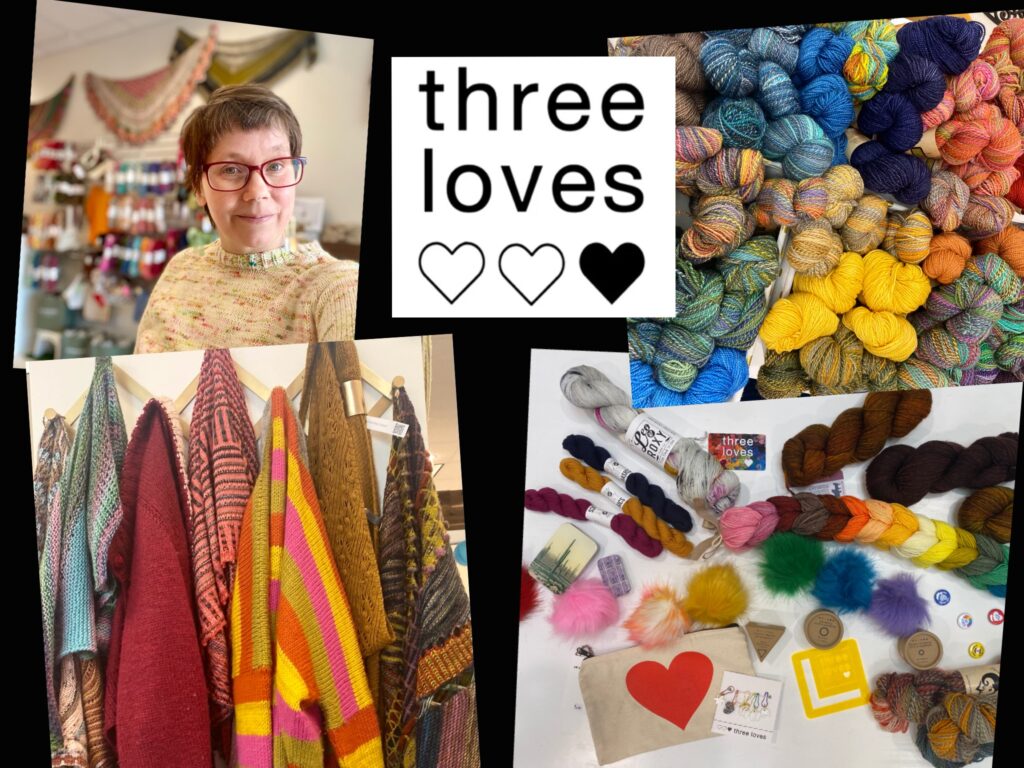 Erica Kafka
Three Loves offers a wide selection of boutique yarns, needles, notions, and gift items for all sorts of stitchers from beginner to seasoned expert. Their goal is to supply, care for, encourage, and grow the community of makers in the Treasure Valley and maintain a hands-on shopping and teaching facility which promotes community and celebrates all things colorful and creative. Come see all the colors! Join us for our late nights, Thursday and Friday until 9:00 p.m.
You can also find Three Loves on Instagram and Facebook.
Three Loves, 138 S. Midland Blvd. Nampa, Idaho 83686 (208) 943-1937
The Yarn Underground, Moscow Idaho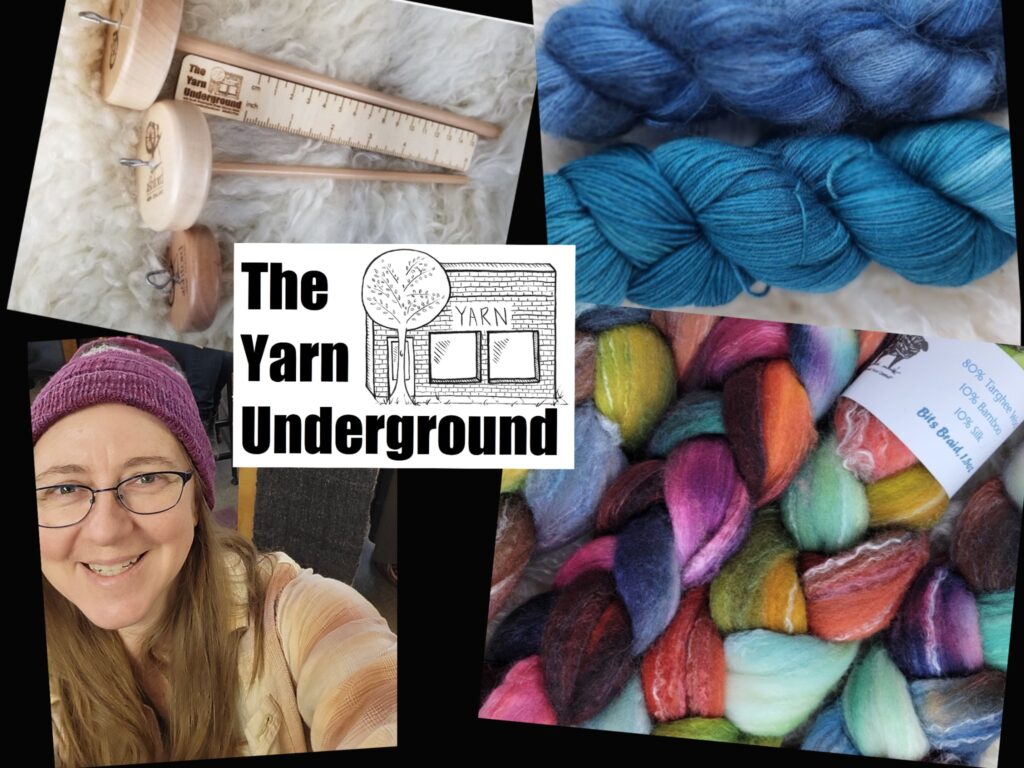 Shelley Stone
The Yarn Underground is the destination yarn store of the Palouse. Started in a downtown basement in 2010, The Yarn Underground consistently stands for great service and wonderful selections of wool, natural fibers, high quality tools, spinning wheels and more. Their mission is to keep the fiber community vibrant while supporting local and American companies. They're there to bring you squishy yarn, irresistible fiber, affordable tools, and most importantly, good help! Stop by and meet the owner and dyer, Shelley — she is there just about all the time and it is her sole purpose to make The Yarn Underground the best yarn shop on the Palouse!
You can visit us on Facebook, Instagram, and Twitter.
The Yarn Underground, 409 S. Washington St, Moscow, Idaho 83843 (208)882-7700
Additional LYS/Supporters
Sherry Bittner
Sherry started learning to sew with her grandmother when she was a very young girl in Wisconsin. Her love for sewing led her to create "Chara Designs", which translates into "My Joy"; named after her beloved German Shepherd.
She prides herself on her classic designs, consisting of unstructured tunic tops, one size jackets, elastic waist skirts with a variety of hemlines as well as hoodies and ponchos. Her clothing is colorful, comfortable, affordable, travels well, is easy care, and sized.
In addition to sewing, Sherry loves to knit and quilt.
She has a daily practice she follows, which has helped her stay positive, after over 20 years of battling cancer; say thank you for 10 things, give a compliment to a friend, do a good deed, say hi to 3 new people, tell Dave she loves him, and thank him for all the wonderful things he does for her, pray, and live by the Golden Rule. She says it isn't easy, but if we all try and do at least one of these things, it will continue to be a wonderful world we live in. Her positive energy and joy she brings to a room is a testament to that dedication to seeing the good in things.
Sherry's designs can be seen at various shows across the state, as well as by appointment in her private boutique. She can be reached at (858) 752-7209 or charadesigns10@gmail.com You can also find Sherry on Facebook.
Keep Me In Stitches, McCall Idaho
Lynda Vrgora
In 1993, from humble beginnings, Keep Me In Stitches was founded. With hand spun and individually dyed unique and one-of-a-kind items, Keep Me In Stitches has been the heart of the crafting community for nearly 30 years. The shop carries exquisite yarn blends from silk and cashmere to alpaca and merino. Nestled in the mountains of Idaho, Keep Me In Stitches is the top spot to go to for yarn, good laughs, and great company.
Lynda can be found on Instagram too.
Keep Me In Stitches, 136 E Lake Street, McCall, Idaho 83638 (208)634-2906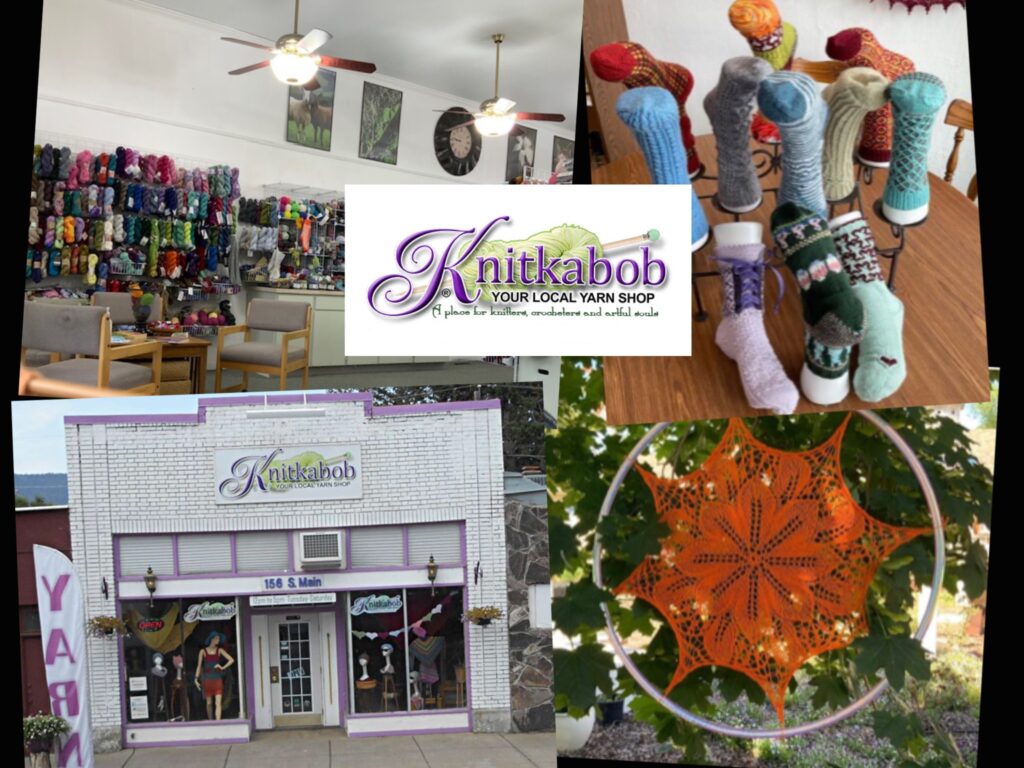 Maggie Owens
Knitkabob®, a yarn shop, in historic downtown Union, Oregon, features a wide selection of
yarns, knitting and crochet supplies, and offers classes for beginning to advanced crafters.
The shop offers an inviting and relaxing atmosphere, where customers are encouraged to have
a seat and knit or crochet while chatting with other makers. With her many years of knitting and
crocheting, and her many years of teaching, Maggie is always happy to help knitters or
crocheters with projects, from selecting the perfect yarn to interpreting complicated patterns.
You can find Knitkabob on Facebook, and Instagram.
Knitkabob, 156 S. Main Street, Union, Oregon 97883 (541)562-2276
The Twisted Ewe, Garden City Idaho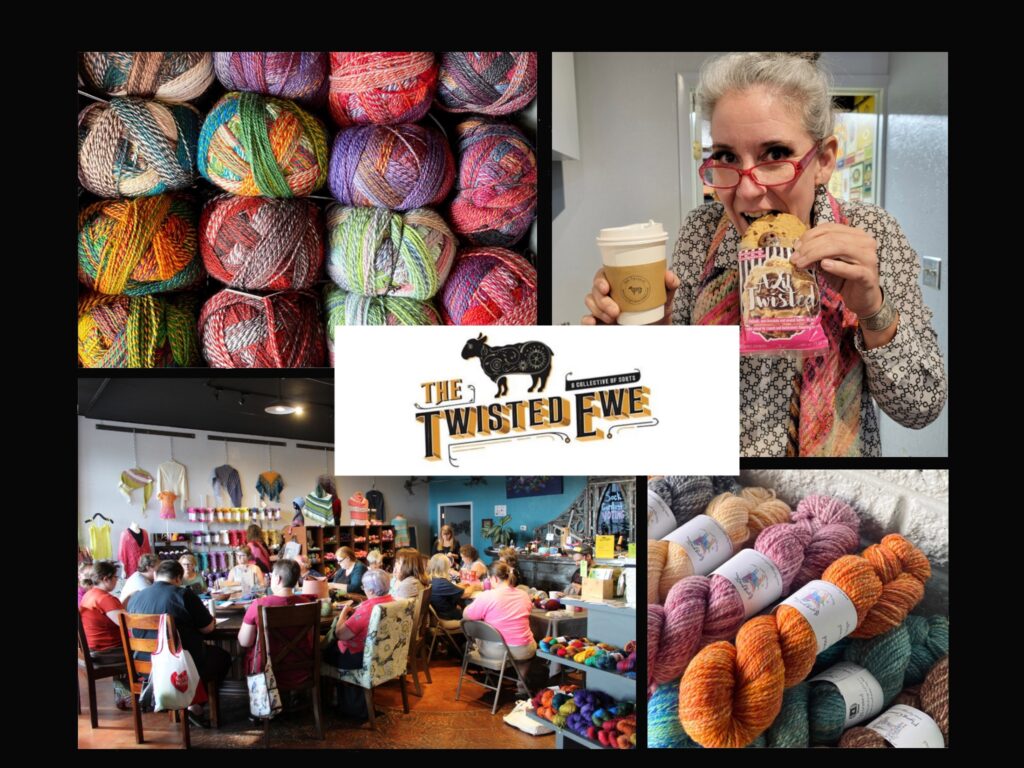 Carolyn Parkinson
The Twisted Ewe opened its doors in April 2010 with a vision—to create a place where anyone may come and find the creative fibers within, that when woven together create something warm and beautiful. We strive to create an enriching and engaging environment to facilitate the continuation of growing this vibrant and twisted community.
All are welcomed to visit our shop, located on Chinden and Orchard in Garden City, just off the connector from downtown Boise. We welcome absolute beginner knitters to expert crocheters, the local Boise crowd to out-of-town stitchers.
Please visit us on Instagram and Facebook.
The Twisted Ewe, 640 W Chinden Blvd, Garden City, ID 83714 (208) 287-3693.